The Pathology Section forms the cornerstone of medical practice. All four specialties (biochemistry, haematology, histopathology and microbiology) are essential in both general practice and hospital medicine. Each specialty has its own unique practice and challenges, particularly with the advancements in technology and media communication. This Section aims to provide medical education in these areas.
Section Council members
Section meetings and conferences are usually organised by members of the Section Council, led by the Section President and often in collaboration with specialist societies.
Interested in joining the Section Council?
Section Councils play a pivotal role at the RSM and we are always looking for members who would like to get involved. If you would like to apply, please complete our application form and a Council representative will be in touch.
Dr John Luckit
Honorary Secretary
Professor Tom Robin Caine Boyde
Honorary Treasurer
Upcoming pathology events and webinars
View all events and webinars being run by the Pathology Section.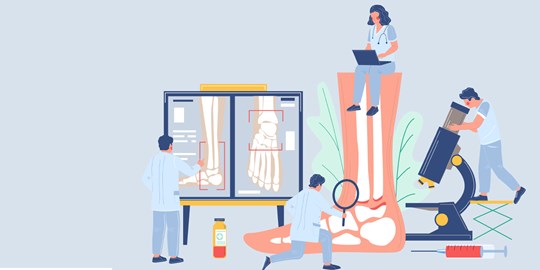 This one-day course will introduce the general clinical audience to the interdisciplinary approach in the diagnosis of bone lesions, especially is the necessity for pathoradiographic correlation. Our ...
Book

Book
Join the RSM today
Become a member today and get discounted rates on our education programme.
For professionals with a medical, dental or veterinary qualification recognised by GMC, GDC or RCVS.
Fellow
For professionals working in the healthcare sector or with an interest in healthcare issues and do not qualify for a Fellow membership. 
Associate
For students studying medicine, dentistry or an undergraduate qualification in a healthcare-related subject, in the UK or overseas. 
Student