The Trainees Section's purpose is to run a full calendar of events aimed at trainees as well as several meetings supporting students and their studies. Meetings cover a variety of activities and opportunities allowing trainees to learn and develop their future careers.
Section Council members
Section meetings and conferences are usually organised by members of the Section Council, led by the Section President and often in collaboration with specialist societies.
Interested in joining the Section Council?
Section Councils play a pivotal role at the RSM and we are always looking for members who would like to get involved. If you would like to apply, please complete our application form and a Council representative will be in touch.
Mr Andreas Fontalis
Honorary Treasurer
Upcoming trainee events and webinars
View all events and webinars being run by the Trainees Section.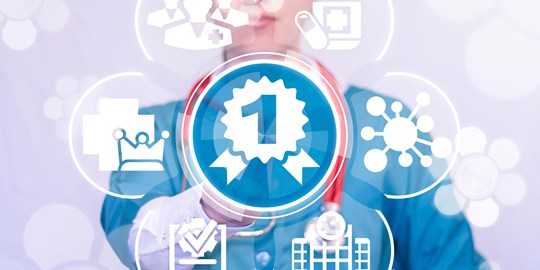 The John Glyn Audit Prize evening is a free webinar organised to support and learn from other trainees who have submitted an abstract on an audit or quality improvement project during their training. ...
Book

Book
Ellison-Cliffe Travelling Fellowship 2021
Prize
Submission deadline 
Monday 4 October 2021
Shortlisting will take place in early November 2021. Interviews will be held for shortlisted candidates on Tuesday 7 December 2021.
Open to
Fellows of the Royal Society of Medicine who are of specialist registrar or lecturer grade or equivalent, or who are consultants within three years of their first consultant appointment. 
The award is intended to cover expenses for travel abroad, to one or two centres, for a period of not less than six months, in pursuit of further study, research or clinical training relevant to the applicant's current interests. 
Candidates will normally be expected to take up the Fellowship between 1 July 2022 and 30 June 2023, but consideration will be given to applicants who are travelling from January 2022.
Application guidelines
Submit an application form with the following included:
Completed

 

application form

Curriculum vitae

Statement of current interests, including career objectives

Detailed proposal as to how the time abroad will be spent and where

Detailed analysis of likely costs of period abroad, and statement of need for funding

Names and contact details of two referees

Supporting statement(s) from the proposed host centre(s)

The candidate should confirm that his/her employing authority will grant study leave if the application is successful
At the end of their Fellowship, the successful candidate(s) will be expected to provide a written report about the work undertaken during the tenure of the Fellowship and to present at an appropriate RSM educational meeting.
Apply here
Join the RSM today
Become a member today and get discounted rates on our education programme.
For professionals with a medical, dental or veterinary qualification recognised by GMC, GDC or RCVS.
Fellow
For professionals working in the healthcare sector or with an interest in healthcare issues and do not qualify for a Fellow membership. 
Associate
For students studying medicine, dentistry or an undergraduate qualification in a healthcare-related subject, in the UK or overseas. 
Student