The Sport & Exercise Medicine Section's purpose is to promote knowledge and understanding of sport and exercise medicine.
Webinar series: The Sport & Exercise Medicine Section COVID-19 webinars
The Sport & Exercise Medicine Section has a webinar series that is broadcast bi-monthly. These webinars will be available to access later online by those who have registered but cannot be present for the live broadcast. Check out and book the webinars below.
Section Council members
Section meetings and conferences are usually organised by members of the Section Council, led by the Section President and often in collaboration with specialist societies.
Interested in joining the Section Council?
Section Councils play a pivotal role at the RSM and we are always looking for members who would like to get involved. If you would like to apply, please complete our application form and a Council representative will be in touch.
Dr Daniel Patrick Coleman Brooke
President
Dr William Wynter Bee
Honorary Treasurer
Upcoming sport and exercise medicine events
View all events and webinars being run by the Sport & Exercise Medicine Section.
Sport & Exercise Medicine Section: Helal and Harries Prize
Application guidelines
Submit a 1500-word essay on the topic of event and expedition medicine, with the following title: Innovative technology in event and expedition medicine  

The essay should focus on novel ideas and technologies and their use in the context of providing medical cover for sporting events or expeditions. The work should be supported by references where appropriate. Shortlisted candidates will be required to give a poster/oral presentation at a Sport and Exercise Medicine Section meeting.
Prize: RSM certificate and free attendance at a future event
Submission deadline: Submissions closed
Open to: Students and trainees, allied health professionals and intercalated students
Submissions closed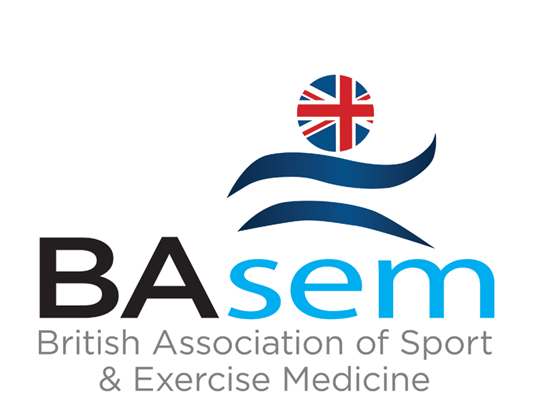 RSM members have 20% discount on their first year of BASEM membership, and BASEM members have 20% discount for their first year of RSM membership. If you are a BASEM member, get in touch with BASEM to receive your RSM voucher code.
Learn more about BASEM
Join the RSM today
Become a member today and get discounted rates on our education programme.
For professionals with a medical, dental or veterinary qualification recognised by GMC, GDC or RCVS.
Fellow
For professionals working in the healthcare sector or with an interest in healthcare issues and do not qualify for a Fellow membership. 
Associate
For students studying medicine, dentistry or an undergraduate qualification in a healthcare-related subject, in the UK or overseas. 
Student