The Sleep Medicine Section's purpose is to promote the understanding of sleep and its disorders thus promoting good health and best practice. The section through its meetings provides up-to-date information on sleep and sleep medicine to anyone who requires it.

The publication 'Expert consensus on minimum standards of practice in the use of cognitive behavioural therapy for insomnia (CBT-I) 2019' is now available to RSM members. Download report here.
Section Council members
Section meetings and conferences are usually organised by members of the Section Council, led by the Section President and often in collaboration with specialist societies.
Interested in joining the Section Council?
Section Councils play a pivotal role at the RSM and we are always looking for members who would like to get involved. If you would like to apply, please complete our application form and a Council representative will be in touch.
Dr Kirstie Anderson
President
Dr David O'Regan
President Elect
Professor Jim Horne
Honorary Secretary
Dr David O'Regan
Honorary Treasurer
Upcoming sleep medicine events and webinars
View all events and webinars being run by the Sleep Medicine Section.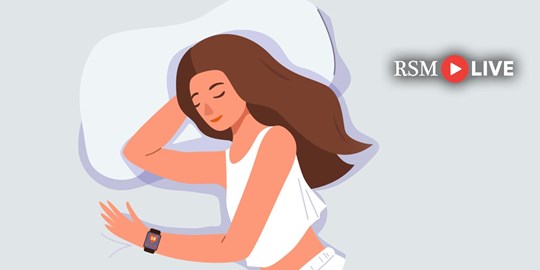 A webinar where the interplay of sleep physiology and cardiology will be explored in common conditions, join us to understand the challenges posed by COVID-19 and to review innovative solutions that c...
Book

Book
Sleep Medicine Section: Student Essay Prize
Prizes:
First prize: £300, and invited to deliver a presentation on the topic of their essay at a Sleep Section meeting at the Royal Society of Medicine

Second prize: £200

Third prize: £100
Submission deadline: 
Monday 5 April 2021

Meeting date: 
Tuesday 18 May 2021
Open to:
Pre-clinical, clinical medical and dental undergraduate students
Title of the essay this year: The role of sleep in a healthy heart
The aim of this prize is to promote discussion and understanding of sleep medicine and its relevance to current medical practice.
The three highest-scoring essays will be shortlisted for 1st, 2nd and 3rd prize respectively. The entrant awarded the 1st prize will be invited to deliver a presentation on the topic of their essay at a Sleep Section meeting at the Royal Society of Medicine.
Essays should be no longer than 1000 words. The word count does not include the reference list

References should be formatted in Harvard style. There is no limit for the number of references used

There should be no more than 1 figure and 1 table

The name of the author should not be included in the essay

The essay should be entirely your own original work, and should not have been previously published
Submit
Join the RSM today
Become a member today and get discounted rates on our education programme.
For professionals with a medical, dental or veterinary qualification recognised by GMC, GDC or RCVS.
Fellow
For professionals working in the healthcare sector or with an interest in healthcare issues and do not qualify for a Fellow membership. 
Associate
For students studying medicine, dentistry or an undergraduate qualification in a healthcare-related subject, in the UK or overseas. 
Student