The Rheumatology & Rehabilitation Section's aim is to advance the scientific study of rheumatology, which is that branch of medicine concerned with the disease of connective tissue and disorders of the musculoskeletal system, and to advance the scientific study of rehabilitation, which is the restoration of optimum function of people suffering from disability, particularly of the locomotors system.
Section Council members
Section meetings and conferences are usually organised by members of the Section Council, led by the Section President and often in collaboration with specialist societies.
Interested in joining the Section Council?
Section Councils play a pivotal role at the RSM and we are always looking for members who would like to get involved. If you would like to apply, please complete our application form and a Council representative will be in touch.
Upcoming rheumatology and rehabilitation events
View all events and webinars being run by the Rheumatology & Rehabilitation Section.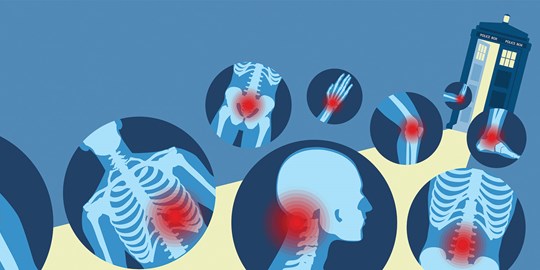 Join us for the third instalment of the popular 'TARDIS' series to delve into aspects of systemic disease often encountered in the rheumatology clinic. Attendees will learn directly from expert speake...
Book

Book
Rheumatology & Rehabilitation
There are currently no prizes or awards open for this section.
Rheumatology & Rehabilitation
Join the RSM today
Become a member today and get discounted rates on our education programme.
For working doctors and consultants (FY1 to ST8), retired doctors, and those holding senior management positions in medicine or healthcare.
Fellow
For scientists and other professionals with a proven interest (or role) in the healthcare sector, but who do not hold a medical qualification.
Associate
For those studying medicine, dentistry or another healthcare-related subject, who are on their way to becoming a qualified medical or healthcare professional.
Student