The Occupational Medicine Section's purpose is to discuss topics relevant to the field of occupational medicine and improve the understanding of the physical, chemical and psychological hazards of work activities and advances in occupational health practice. It also promotes co-operation between the specialty of occupational medicine and other medical disciplines by providing a supportive learning environment and network for trainees.
Occupational health webinar series
The Occupational Medicine Section has a six-part webinar series starting from 14 October 2020 and will broadcast weekly on Wednesdays at 4:00pm.
Join us to dive into the occupational health challenges unique to six large work industries during the COVID-19 pandemic. This series aims to expand your knowledge of how different workplaces have responded to challenges and promote understanding between professional groups.
Section Council members
Section meetings and conferences are usually organised by members of the Section Council, led by the Section President and often in collaboration with specialist societies.
Interested in joining the Section Council?
Section Councils play a pivotal role at the RSM and we are always looking for members who would like to get involved. If you would like to apply, please complete our application form and a Council representative will be in touch.
Dr Lisa Ann Curran
President
Dr Michael John Goldsmith
President Elect
Dr Sam Valanejad
Honorary Treasurer
Upcoming occupational medicine events and webinars
View all events and webinars being run by the Occupational Medicine Section.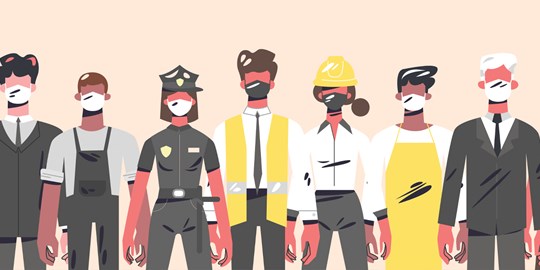 Join us to consider the emerging issues for health and work as we transition from the constraints in 2020 and early-2021 due to COVID-19, and what this means for occupational health practice for the c...
Book

Book
Occupational Medicine: Ramazzini Prize
Prize
First prize: £250 + certificate
Submission deadline
Friday 9 August 2019
Open to
All specialist trainees in Occupational Medicine, ST3-ST6
Application guidelines
Submit a 500 word case report abstract fitting the meeting theme set each year: Making a difference in Occupational health: Clinical case management and work outcomes that add value for the patient, manager and organisation.
Case criteria: Clinical Case: A clinical case of relevance to occupational medicine and fitting the meeting theme. The case should be one which has been clinically assessed and managed by the applicant personally since entering specialty training in Occupational Medicine.
Four cases will be shortlisted by Council and invited to give a 10 minute presentation at the Occupational Medicine's September evening meeting.
Apply here
Join the RSM today
Become a member today and get discounted rates on our education programme.
For professionals with a medical, dental or veterinary qualification recognised by GMC, GDC or RCVS.
Fellow
For professionals working in the healthcare sector or with an interest in healthcare issues and do not qualify for a Fellow membership. 
Associate
For students studying medicine, dentistry or an undergraduate qualification in a healthcare-related subject, in the UK or overseas. 
Student