The Obstetrics & Gynaecology Section's purpose is to promote knowledge in all that relates to obstetrics and gynaecology.
Section Council members
Section meetings and conferences are usually organised by members of the Section Council, led by the Section President and often in collaboration with specialist societies.
Interested in joining the Section Council?
Section Councils play a pivotal role at the RSM and we are always looking for members who would like to get involved. If you would like to apply, please complete our application form and a Council representative will be in touch.
Dr Sangeeta Agnihotri
President
Miss Sadaf Ghaem-Maghami
President Elect
Professor Mark Brincat
Honorary Secretary
Dr Eugene Oteng-Ntim
Honorary Treasurer
Upcoming obstetrics and gynaecology events
View all events and webinars being run by the Obstetrics & Gynaecology Section.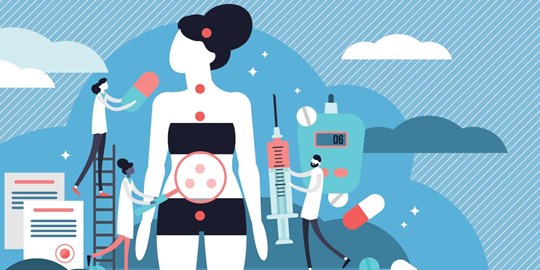 This webinar will look at the impact of hormones on women's health throughout their lives, thereby facilitating clinical management of hormonal disorders. The webinar is for Obstetrics and Gynaecology...
Book

Book
Obstetrics & Gynaecology Section: Dame Josephine Barnes Award
Prize
Submission deadline
17 January 2021
Open to
All medical undergraduate students
Application guidelines
The title of the essay this year is 'The effects of the COVID Pandemic in women's health' 
Essays should be no longer than 1000 words. 
The winner of the prize will receive £100 and will be expected to make a twenty minute presentation on the topic of their essay at the student and trainees prize meeting at the Royal Society of Medicine in March. Please include your essay under the abstract section on the submission form.
Apply now
Obstetrics & Gynaecology Section: Herbert Reiss Trainees' Prize
Prize
Oral first prize: £150
Oral second prize: £100
Poster first prize: £100
Poster second prize: £75
Submission deadline
1st February 2021
Open to
SPRs in obstetrics and gynaecology 
Application guidelines
Abstracts of no more than 300 words on topics related to obstetrics and gynaecology will be accepted. Submitted abstracts will be shortlisted to poster and oral presentations for the meeting. Six of the best abstracts will be asked to give a seven minute scientific presentation relating to our specialty (plus five minutes for questions).
Apply here
For professionals with a medical, dental or veterinary qualification recognised by GMC, GDC or RCVS.
Fellow
For professionals working in the healthcare sector or with an interest in healthcare issues and do not qualify for a Fellow membership. 
Associate
For students studying medicine, dentistry or an undergraduate qualification in a healthcare-related subject, in the UK or overseas. 
Student