The Medical Genetics Section's purpose is to facilitate cross-specialty education, integration and progress in the field of genetic medicine and to provide insight into and promote recent advances in genetic medicine as a cross-cutting discipline.
Section Council members
Section meetings and conferences are usually organised by members of the Section Council, led by the Section President and often in collaboration with specialist societies.
Dr Sarah Alison Rae
President
Dr Shwetha Ramachandrappa
President Elect
Dr Eleanor Cartwright
Honorary Treasurer
Upcoming medical genetics events
View all events and webinars being run by the Medical Genetics Section.
Registration for this webinar will close 2 hours prior to the start time. You will receive the webinar link 2 hours before the meeting. Late registrations will not be accepted. This timely webinar bri...
Book

Book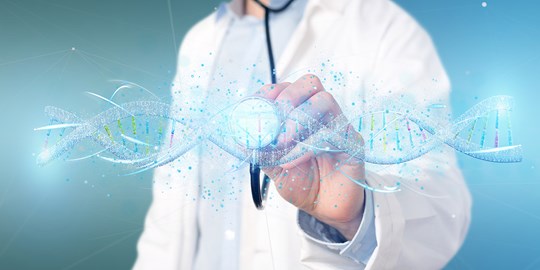 *Please note: This event was due to take place on Wednesday 10 June 2020 and has been postponed to Friday 18 December 2020. We apologise for any inconvenience this may have caused.* At this unique mee...
Book

Book
Join the RSM today
Become a member today and get discounted rates on our education programme.
For professionals with a medical, dental or veterinary qualification recognised by GMC, GDC or RCVS.
Fellow
For professionals working in the healthcare sector or with an interest in healthcare issues and do not qualify for a Fellow membership. 
Associate
For students studying medicine, dentistry or an undergraduate qualification at an approved UK university. 
Student