The Cardiothoracic Section's purpose is the cultivation and promotion of cardiac, vascular and thoracic medicine and surgery and the branches of science connected with them.
Section Council members
Section meetings and conferences are usually organised by members of the Section Council, led by the Section President and often in collaboration with specialist societies.
Mr Mark Jones
President Elect
Mr Jonathan Andrew Jeremy Hyde
Honorary Secretary
Mr Stephen Rooney
Honorary Treasurer
Upcoming cardiothoracic events and webinars
View all events and webinars being run by the Cardiothoracic Section.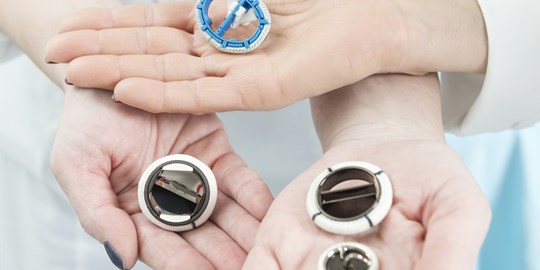 *Please note: This event was due to take place on Wednesday 13 November 2020 and has been postponed to Friday 25 June 2021. We apologise for any inconvenience this may have caused.* With the advent of...
Cardiothoracic Section: Case Presentation Prize
Prize
Oral presentation: One year's free RSM membership and a bottle of champagne
Poster presentation: One year's free RSM membership and a bottle of wine
Submission deadline
15 April 2021
Open to
All pre-clinical and clinical cardiothoracic students and trainees.
Application guidelines
Submit a 250-word abstract on a case presentation. The abstract can include figures, diagrams and scans. Shortlisted candidates will be invited to present their paper at a Cardiothoracic meeting.
Apply here
Cardiology Section: President's Prize
Prize
First prize:  £1,000 
Second prize: £500 
Submission deadline 
31st March 2020
Open to  

Cardiology trainees (ST3 and upwards) who have received all or part of their training in the United Kingdom. The applicant must either be currently engaged in full-time cardiovascular research or be no later than 1 year following award of a research degree by the submission deadline. 
Application guidelines

Submit a 200-word abstract on a subject which represents original research in cardiology. For applicants who have been awarded a research degree, proof of the date of award will be required. Shortlisted candidates will be invited to present their work on 26th May 2020 at the RSM.
Apply here
Join the RSM today
Become a member today and get discounted rates on our education programme.
For professionals with a medical, dental or veterinary qualification recognised by GMC, GDC or RCVS.
Fellow
For professionals working in the healthcare sector or with an interest in healthcare issues and do not qualify for a Fellow membership. 
Associate
For students studying medicine, dentistry or an undergraduate qualification at an approved UK university. 
Student