On behalf of the London Deanery and the London School of Specialty Medicine, the Cardiology Section provides programmes of training days for general cardiology and advanced sub-specialty training for London/Thames programme trainees.
Section Council members
Section meetings and conferences are usually organised by members of the Section Council, led by the Section President and often in collaboration with specialist societies.
Professor Nikhil Patel
President
Dr Sukhjinder Nijjer
President Elect
Upcoming cardiology events and webinars
View all events and webinars being run by the Cardiology Section.
Attendance requirements

PMETB attendance requirements
Attendance at cardiology programme training days is mandatory. Trainees are expected to attend all the training days relevant to their level of training and an absolute minimum of 70% to meet PMETB requirements.
Junior trainees (SpR 1-4 & StRs ST3-5)
Junior trainees are welcome to attend the sub-specialty training days however these will not be counted at their RITAs/ARCPs.
Senior trainees (SpRs 5-6 & ST6-ST7s)
Senior trainees are welcome to attend general cardiology training days but are not required to do so and these will not be counted at their RITAs/ARCPs.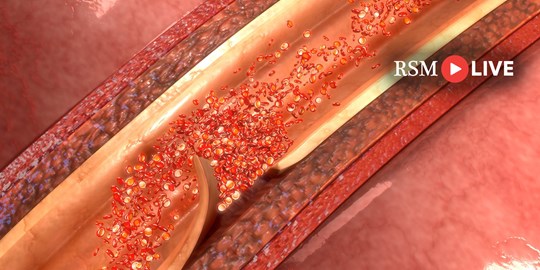 This is the first episode in the series by RSM Cardiothoracic section: Dilemmas in the acute aortic dissection. This first webinar will join experts to explore the diagnostic challenges and treatment ...
Book

Book
Cardiology Section: President's Prize
Prize
First prize:  £1,000 
Second prize: £500 
Submission deadline 
31st March 2020
Open to  

Cardiology trainees (ST3 and upwards) who have received all or part of their training in the United Kingdom. The applicant must either be currently engaged in full-time cardiovascular research or be no later than 1 year following award of a research degree by the submission deadline. 
Application guidelines

Submit a 200-word abstract on a subject which represents original research in cardiology. For applicants who have been awarded a research degree, proof of the date of award will be required. Shortlisted candidates will be invited to present their work on 26th May 2020 at the RSM.
Apply here
Join the RSM today
Become a member today and get discounted rates on our education programme.
For professionals with a medical, dental or veterinary qualification recognised by GMC, GDC or RCVS.
Fellow
For professionals working in the healthcare sector or with an interest in healthcare issues and do not qualify for a Fellow membership. 
Associate
For students studying medicine, dentistry or an undergraduate qualification at an approved UK university. 
Student