The Royal Society of Medicine (RSM) has signed a partnership agreement with the Datta Meghe Institute of Higher Education and Research (DMIHER) in India. 
The Memorandum of Understanding will see hundreds of DMIHER students, trainees and faculty become RSM members in the coming years. More than 200 new members are expected to join this academic year alone. Other collaborations, such as education delivery, will be explored as the partnership matures. 
Around a quarter of the RSM's 20,000 members are based overseas, with the United States, Bahrain, Australia and Canada having the largest contingents. This new partnership with DMIHER will put India among that group.  
The partnership is the latest in a programme of international collaboration as the RSM seeks to ensure more of the global healthcare community can benefit from its leading medical education and connections. A similar agreement with RCSI Bahrain has resulted in around 400 members a year.  
Professor Roger Kirby, RSM President, said: "We are proud to welcome DMIHER into our global community and are excited to share the unique benefits of RSM membership with our growing cohort in India. 
"Our overseas members make a large and extremely valuable contribution to the continuing success of our historic Society, so this new partnership is positive for everyone connected to the RSM."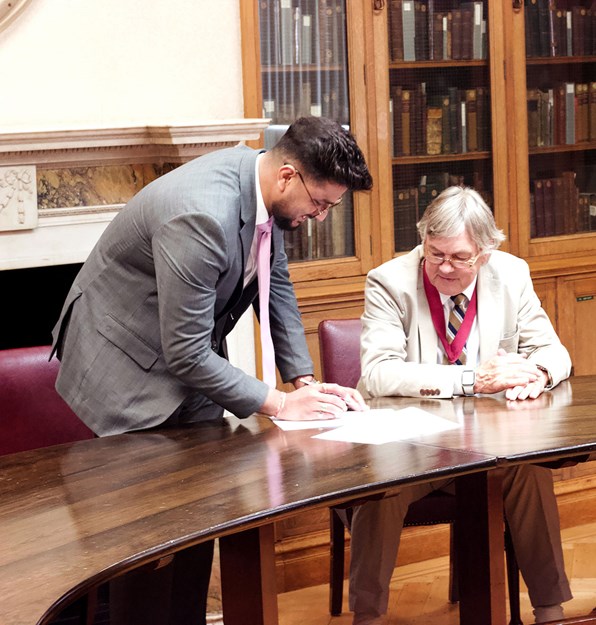 Dr. Vishal A. Shah, M.B.B.S, M.D Psychiatry, ITF-EIP, Assistant Director, DMIHER signing the agreement with Professor Roger Kirby, RSM President
Shri Sagar Meghe, DMIHER Principal Advisor said: "We are immensely proud to witness this historic alliance, where our shared commitment to excellence fuels a future where no challenge is insurmountable. Together, we shape the path towards a healthier, brighter tomorrow. This partnership will unlock the power of collective expertise, fostering innovation and transforming lives globally."   
Professor Lalit Waghmare, Vice Chancellor DMIHER, along with Professor Sandeep Shrivastava (Mentor DMIHER Global & Chief Scientific officer), Dr Vishal Shah (Assistant Director International Relations & Affairs DMIHER), and on behalf of institutional leadership, echoed the comments of principal advisor and said: "We are proud to join hands with the esteemed Royal Society of Medicine, UK, in a transformative partnership that knows no borders. Together, we embark on an extraordinary journey of international collaboration, united by a common vision of advancing global healthcare and envision a future where health and education know no boundaries." 
The RSM is a cross-specialty organisation that welcomes professionals with an interest in healthcare. It is one of the largest medical education providers in the UK with an annual programme of over 350 events (most with CPD accreditation) spanning 50+ specialty areas. RSM members save 40% on all meetings (sometimes free). The RSM's Library offers extensive digital learning and online e-resources to members. Members can enjoy free access to resources to support clinical decision-making and research.  
To discuss the benefits of an institutional partnership with the RSM, contact gavin.berkerey@rsm.ac.uk.