The RSM Digital Health Section podcast has launched a new series with a new presenter, Dr Annabelle Painter.  
Dr Painter takes up the reins from former host Dr Mala Mawkin, continuing the podcast's exploration of how digital technologies are transforming healthcare through interviews with leading digital health experts. The podcast is aimed at anyone who is interested in the potential of digital technologies to transform healthcare including clinicians of all levels and disciplines, students and non-clinicians. 
The newly published second episode sees Annabelle interview Dr Murray Ellender, CEO of eConsult Health. Focusing on how innovative digital triage tools are catalysing new ways of working and improving system efficiency within the NHS, discussion points include digital triage enabled primary and secondary care, the concept of one unified 'digital door' across NHS services and the future of AI-enabled triage.
The first episode of the new series was themed around mental health, tying in with the Section's upcoming event titled Digital mental health in adults and older people. Annabelle met with Megan Jones-Bell, Clinical Director of Consumer and Mental Health at Google, for an illuminating discussion around the various approaches google is taking in the mental health space and some of the associated opportunities and challenges – from ways to help users find trustworthy healthcare content and avoid misinformation to how medical devices are giving users new insights into their physical and mental health.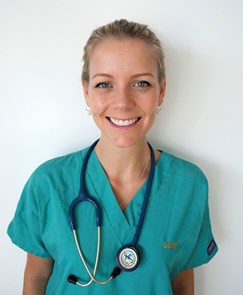 Dr Annabelle Painter
Passionate about harnessing healthtech to improve healthcare, Annabelle's digital health experience spans the private, public and academic sectors; from developing and validating symptom checkers as an AI clinician at Babylon Health, conducting digital health research and teaching at Imperial College London to working centrally in the NHS as a Clinical AI fellow at the NHS AI Lab exploring healthcare workers' confidence in AI. Having led several events for the RSM Digital Health Section Council including the inaugural Femtech event in 2020 and annual AI themed events, she's now excited to be taking on the podcast and the opportunity to share insights with listeners from leaders in the field. 
With a new episode due to be published every two weeks, the series will feature discussions with leaders from Google, AccuRx, Big Health and Flo health. It will also include discussions on how data from healthtech products can provide novel research insights into our health, the importance of evidence-generation for digital interventions and the challenges and opportunities of large language models in healthcare.  
RSM Digital Health Section podcast is available to listen to on Spotify and Anchor FM.