A recent event at the Royal Society of Medicine (RSM) brought together menopause specialists to shed light on new research examining the relationship between menopausal hormone replacement therapy (HRT) and dementia.
The event was convened following widespread media coverage and public discussion resulting from a recent study by researchers in Denmark, published in the British Medical Journal (BMJ), which found a positive association between HRT and the development of dementia.
The panel included Dr Sarah Glynne, GP and menopause specialist; Dr Kejal Kantarci, researcher specialising in neuroimaging, neuroscience and the clinical aspects of ageing, menopause and dementia; and Professor Pauline Maki, a specialist in women's health and the effect of menopausal hormone therapy on cognition and mood.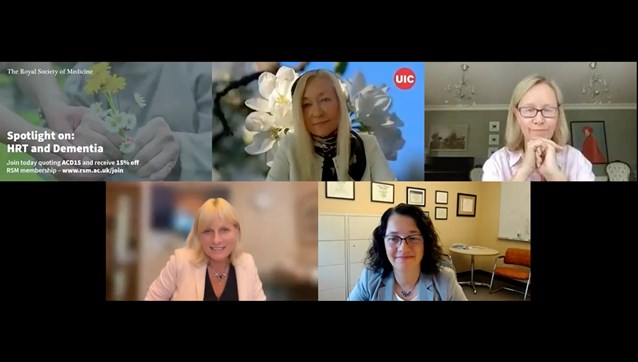 Clockwise from top middle: Professor Pauline Maki, Dr Sarah Glynne, Dr Kejal Kantarci and Professor Gillian Leng
Professor Gillian Leng CBE, Dean of Education at the RSM, chaired the session and began by citing the current National Institute for Health and Care Excellence (NICE) guideline on menopause, published in 2015, which includes a short recommendation to "explain to menopausal women that the likelihood of HRT affecting their risk of dementia is unknown," and asking the panel whether they thought the new research should change these guidelines.
Dr Kejal Kantarci pointed out that while the research has its strengths, as with any observational study, there are factors at play.
"In particular we were concerned about increased dementia risk with less than one year of hormone treatment which didn't make biological plausibility to us," she said.
She went on to highlight that symptoms experienced by many women during menopausal transition, such as decline in cognitive processing speed, vasomotor symptoms and sleep disturbances, may prompt those women to seek hormone therapy more often than those who do not experience them.
When asked about the type of hormone therapies used by the women included in the research, Dr Kantarci said that as the study time period went up to the early 2000s, the women would not have been exposed to more recent bio-identical hormone therapies, but rather older synthetic hormones commonly prescribed at the time.
Dr Sarah Glynne added that the study had created concern for both patients and clinicians, which to her mind was unfortunate because 'it's reporting an association not a causation.'
Dr Glynne also raised the importance of distinguishing between the types of hormone therapies used. "Almost all of these studies have been looking at oral oestrogen and synthetic progestins which have a very different risk profile from body identical hormones that we now prescribe first-line," she said.
"HRT has evolved considerably over the last 20 years and there's lots of experimental data that supports that our androgynous hormones, and body identical hormones are a lot safer and neuroprotective compared with those more old-fashioned type of hormones. Unfortunately, that wasn't emphasised by the authors and it's certainly not been picked up by the press and the media when they've been talking about the study."
Dr Glynne went on to highlight the need to develop research looking at the body identical hormones widely used today, rather than continuing to focus on those older therapies which are now very rarely prescribed.
Professor Leng took a number of questions from the audience relating more widely to the topic of menopause and the various treatments available, before concluding by asking each panellist what their main message to women who were concerned about dementia and wondering whether to stop taking HRT.
Professor Pauline Maki responded by saying the study does nothing to change current guidance. "It in no way should change clinical practice. If anything, it's an opportunity to discuss the importance of cognitive function in mid-life women's health and the importance of treating menopause symptoms when they occur."
Agreeing with this recommendation, Dr Kantarci added: "I would say follow the guidelines… which depend on clinical trials rather than observational studies."
Finally, Dr Glynne stated that any risks the research pointed to was very small and that taking HRT can offer other benefits, so no one should be stopping their HRT. She said it was also important for clinicians to discuss the evidence with their patients and tailor the advice to each individual. "For most women, especially if we factor in starting taking HRT earlier and using body identical hormones, the benefits of HRT are going to far outweigh the risk."