An exhibition of remarkable, unpublished letters by Edward Jenner, who pioneered the development of the world's first vaccine, is set to open at the Royal Society of Medicine (RSM).
The letters, recently transcribed by RSM Library staff, are a mix of personal correspondence and Jenner's reflections on his work to develop the smallpox vaccine.
Titled 'Edward Jenner – A life in letters', the exhibition offers a captivating exploration of Jenner's pivotal role in vaccine development, through a collection of insightful correspondence with one of the RSM's founders, Dr Alexander Marcet.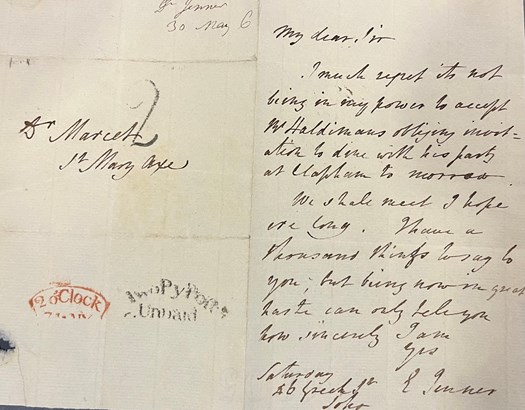 One of the letters from Edward Jenner to Dr Alexander Marcet
In 1805, Marcet and others formed the Medical and Chirurgical Society of London, which later evolved into the RSM. Marcet encouraged his good friend Jenner to join the society, and Jenner attended the first RSM meeting.
Visitors to the exhibition will gain deep insights into the challenges, triumphs, and pivotal moments that shaped the course of immunisation in the early nineteenth century.
Highlights of the exhibition include:
Jenner's defence of the vaccine
In a letter dated 23 February 1803, Jenner addresses allegations of exporting 'spurious' vaccine matter across Europe. Seeking support from Marcet, Jenner rebuts the claims and explores intriguing theories surrounding vaccine reactions, defending the safety and effectiveness of his ground-breaking work.
Glass as a container for viruses
In an April 1803 letter, Jenner expresses his gratitude to Marcet for providing him with a set of glasses to contain and preserve virus matter. Jenner acknowledged the efficacy of glass in containing the virus, having preserved it 'in this way for seventeen weeks'.
Triumphs and trials
The exhibition intimately explores Jenner's personal reflections and challenges as he navigates professional relationships and confronts adversities. It illuminates his unwavering determination in the face of obstacles and the criticism he encountered during his relentless scientific pursuit.
The smallpox vaccine
Visitors will learn of the profound impact of Jenner's observations on the intricate relationship between smallpox and cowpox. These insights ultimately led to the development of vaccination as a preventive measure, sparking a revolution in immunisation practices and leaving an indelible mark on the field of medical science.
The 19 letters on display within the exhibition are all held within the archive of the RSM Library, which is one of the most comprehensive medical libraries in Europe.
"Jenner's discoveries forever changed the landscape of medicine," said Paul Banks, the RSM's Head of Library. "This exhibition provides visitors with a unique opportunity to delve into the fascinating life of a vaccine pioneer."
The exhibition will open its doors at the RSM Library, 1 Wimpole Street, London, on Monday 24 July 2023. Admission is free.