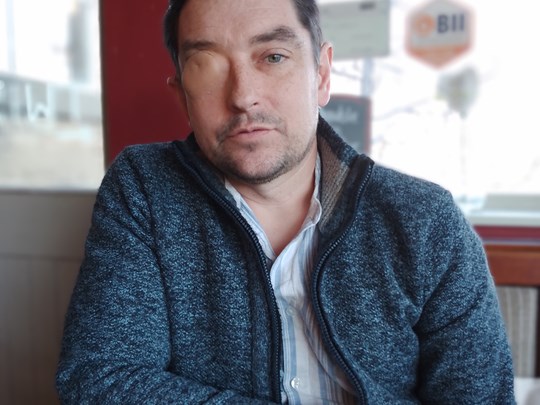 In January 2022, I was diagnosed with a malignant tumour, known as a "squamous cell carcinoma" on my lower right eyelid. It rarely attacks this area of the body as aggressively as it did. Within a month, my healthy right eye had to be removed in order to remove the tumour and I was left with a flap of skin, taken from my belly, where my eye used to be.
I was shocked and when I looked in the mirror I didn't see "me" anymore. I thought my world had ended.
Since my surgery, I have resorted to wearing an eye patch or covering up my eye to avoid being stared at. Being stared at makes me feel anxious and self-conscious and reminds me that I no longer look the same as most people.
It's still early days and I'm still struggling with crowded places and generally avoid those where I can. But living on a houseboat can be quite isolating and comes with its own challenges. Fortunately, I've found that the wonderful boating community have rallied round me and helped me so much. Even if it's just stopping by to see me and chatting for a couple of hours about normal stuff, not my condition.
Read John's full story