Shifting the balance of spending to focus on prevention; making good, smart use of technology; and dealing with social care are the three key areas Wes Streeting MP, Shadow Secretary of State for Health and Social Care, has identified as priorities in order to secure a more sustainable footing for the NHS - were a Labour government to be voted into power at the next general election.
The Labour MP for Ilford North shared his plans should he become Secretary of State for Health and Social Care, with Professor Roger Kirby, President of the Royal Society of Medicine, before a live audience at the RSM on 13 July.
Speaking as part of the RSM 'In Conversation Live' Series, he also discussed how to address workforce needs within the health service, why he supports assisted dying, and detailed his own experience of the health service when he was treated for kidney cancer in 2021.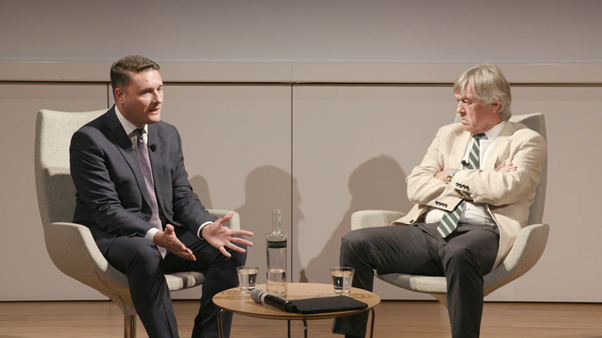 Wes Streeting MP In Conversation Live with Professor Roger Kirby at the Royal Society of Medicine
Mr Streeting acknowledged public anxiety about the level of funding the NHS has as a proportion of government spending. "It's really important to demonstrate that it is investment for a purpose and to deliver real outcomes, and I think one of the ways in which we do that is to outline - at the same time as the immediate priority of bringing down the elective care backlog, which is going to be a big political focus - we also need to demonstrate that over a longer term period we're making the right choices now to put the NHS onto a more sustainable footing."
In terms of prevention, he highlighted the need to deal with conditions "when they cost hundreds of pounds and thousands of pounds, rather than hundreds of thousands of pounds, or even a million pounds when you add up the cost of people's care if we don't get there soon enough."
Technology plays a key role in the future of Wes Streeting's plans for the health service. Both to "improve the back office and to improve the patient experience and the navigation around the NHS," as well as making effective use of "ground-breaking new treatments and technology that's already being rolled out and new developments that are coming down the lines."
Mr Streeting specified the need for increased integration in order to address the current issue of delayed discharges. He said: "The test for me for ICSs [Integrated Care Systems] as they're currently constituted is: are they shifting some of that resource now in social care to free up the exit door and improve the flow through the hospital, or are people still thinking in silos?
"I've seen some good examples already. I was up at the Leeds General Infirmary with Rachel Reeves [Shadow Chancellor of the Exchequer and MP for Leeds West] the other week, where they are using some of their money now as a Trust to invest through Leeds City Council into social care to help deal with some of those delayed discharges." However, he was quick to reassure the audience that any Labour plans for ICSs would be more "evolution than revolution", and that a Labour government would tread cautiously when it comes to any structural reform in that area.
Another important area of focus he highlighted was workforce.
"We do need a kind of OBR [Office for Budget Responsibility] style independent assessment of what the workforce needs are. Because this is an organisation that currently employs about 1.4 million people - I can't think of a single organisation of half that size, a quarter of that size, a tenth of that size that would not have at board level a regular report on people: workforce, recruitment, retention, training."
Citing the lengthy timescales involved in training up many roles in the healthcare profession, he asserted: "Parliament needs to have [an independent assessment] to hold ministers to account and to make sure that the Secretaries of State and Ministers passing through the department as temporary custodians are not making short term-ist decisions, but are making long term-ist decisions."
Taking questions from the audience, the MP was prompted to share his thoughts on assisted dying, and why he voted in favour of the Assisted Dying Bill when it was debated in Parliament, after hearing from those directly affected.
"I had been instinctively against assisted dying until one of my constituents came to see me and in very powerful, personal terms explained why that choice would have made a massive difference to her mother and to her. And so I promised to reopen my mind and to go and listen."
He underscored the need for appropriate safeguards to be in place should an assisted dying bill be passed. "We need to look at the checks and balances to avoid coercion: either direct coercion or self-imposed coercion - the sort of the guilt that people may apply to themselves, 'I don't want to burden my family' sorts of considerations – and also one thing I am absolutely determined is that if we go ahead with assisted dying, we have to sort out palliative care. People should not be choosing or being forced to end their life sooner than they would wish because… the palliative care isn't good enough."
Professor Kirby started the conversation by asking Wes Streeting about his own personal experience of the NHS, having been diagnosed with and treated for kidney cancer in 2021. Mr Streeting described feeling lucky that his cancer has been discovered early on, which ultimately resulted in him making a full recovery following an operation to remove his kidney. On how he initially received the bad news, he said it was delivered in as good a way as it could have been.
"I don't envy your position as people who sometimes have to give very bad news, potentially fatally bad news, because we're all different and we all respond to news good or bad in different way. So someone with an identical diagnosis might have responded in a very different way than I did."
The full conversation with Wes Streeting MP, Shadow Secretary of State for Health and Social Care, will soon be available to watch on the RSM YouTube channel. Subscribe to www.youtube.com/user/royalsocietymedicine for updates.