Professor Ketan Dhatariya, Immediate Past President of the RSM Endocrinology & Diabetes Section, has been appointed Chair of the Association of British Clinical Diabetologists (ABCD).
Professor Dhatariya will take the helm at ABCD in June 2023 when current chair, Dr Dipesh Patel, completes his term of office.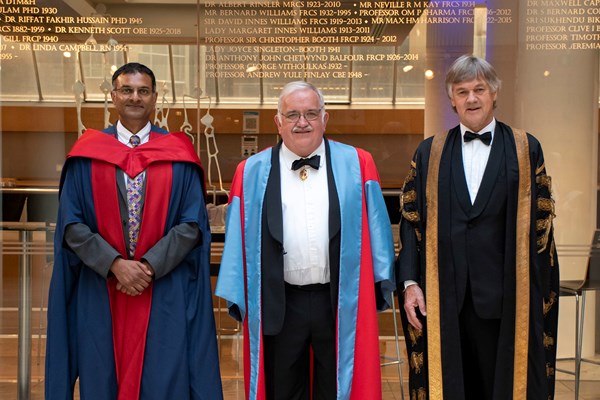 Professor Dhatariya with Professor Stephen O'Rahilly and RSM President Professor Roger Kirby at the RSM Honorary Fellows Ceremony on 22 July 2021
The RSM recently partnered with ABCD to develop learning opportunities for diabetes healthcare professionals to enable provision of the highest quality of care for diabetic patients – both in hospitals and in primary care. Through the partnership, ABCD members can enjoy a 20% discount on RSM Associate and Fellow membership in their first year of joining the RSM.
Established in 1997, ABCD is a national organisation of consultant physicians in Britain who specialise in diabetes. Most of its members are also acute general physicians, and many are specialists in endocrinology and lipid metabolism as well.
Speaking on the UK Diabetes Inpatient Forum, Professor Dhatariya said: "For the last 18 years I have tried to raise the standard of care provided for people with diabetes.
"My other roles within diabetes have given me a voice amongst my colleagues and peers. My goal is to ensure that the workforce that ABCD represent continue to be educated and supported, with their concerns and ambitions strongly advocated for."
He added: "ABCD, working with national partners, has the power to influence policy at a governmental level.
"My goal would be to continue the work of the previous chairs in positioning ourselves as THE voice of the diabetes workforce."
The RSM has previously collaborated with ABCD on a webinar series sharing expertise with clinicians on the epidemiology, clinical care, novel therapeutics and biomarkers for non-alcoholic fatty liver disease (NAFLD) and diabetes.
The RSM provides a range of learning resources for diabetologists, including regular events organised by the RSM Endocrinology & Diabetes Section. Meetings explore current concepts and innovations in the field of endocrinology helping clinicians and scientist maintain their training and keep ahead in new developments.

Professor Dhatariya speaks about the RSM's resources for diabetologists on World Diabetes Day 2022
Find out more about the RSM Endocrinology & Diabetes Section.