A new exhibition at the Royal Society of Medicine celebrates the life and work of Louis Pasteur, 200 years after his birth.
Opening last week, the public exhibition delves into the RSM Library archives to bring together a selection of books, papers and writings by Pasteur and others. Together, they tell the story of his remarkable ascent from a modest upbringing in France to becoming one of the most important figures in modern medicine.
His seminal research led to the discovery of vaccinations, pasteurisation and proof that germs cause disease, saving countless millions of lives.
Often called the father of microbiology and germ theory, Pasteur was born 1822, in Dole, France. In 1855, while employed by a brewing company, he discovered that bacteria growing in beer and wine could be killed by boiling and then cooling the drinks – the process known today as pasteurisation. In 1864, he proved the link between germs and disease and, in 1879, he discovered vaccinations after accidentally exposing chickens to cholera. He died in 1895, aged 72.
Pasteur's prolific impact was summed up by RSM Library intern, Frances Paine, one of the researcher's for the exhibition. She said: "While the breadth of Pasteur's research was singularly impressive, the extent of his achievements is remarkable.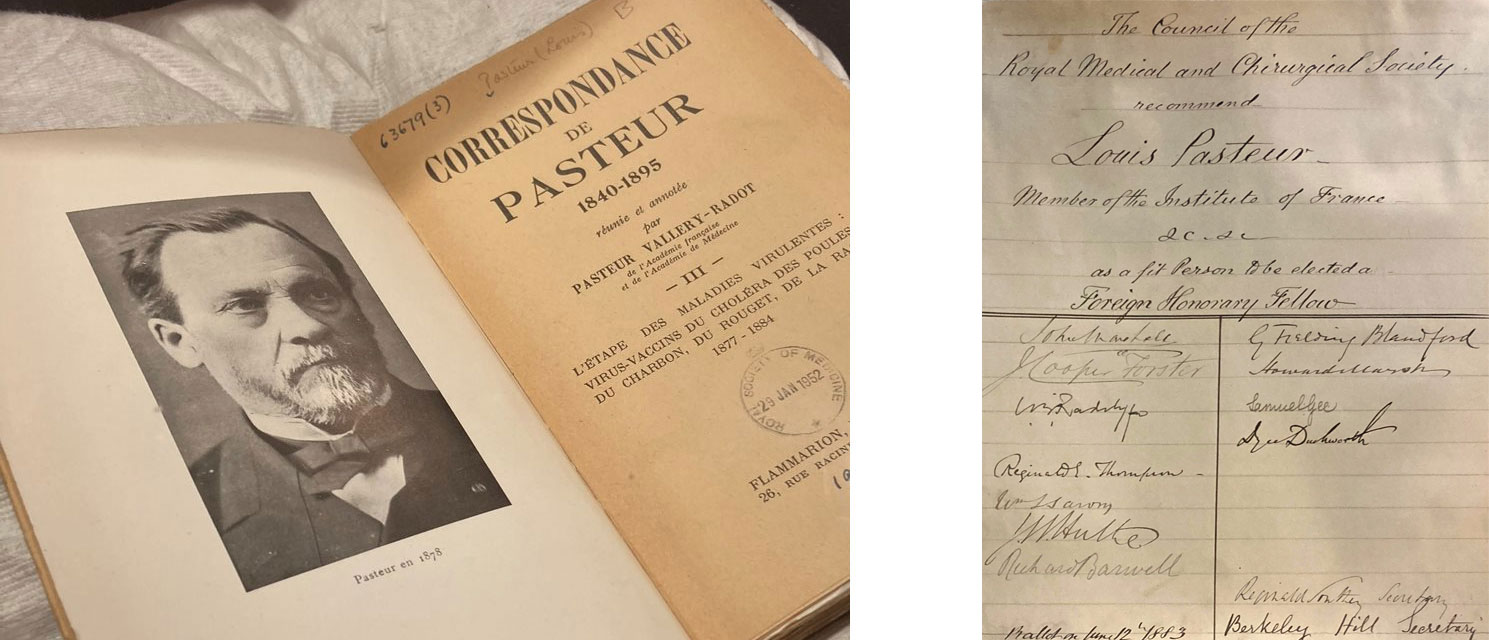 Left: A selection of Pasteur's correspondences between 1840 and 1895
Right: Ballot paper and proposal certificate for Pasteur's Foreign Honorary Fellowship of the RSM, dated June 12th 1883
"For instance: he created the first rabies vaccine; realised that fermentation is caused by living organisms; discovered the process of pasteurisation; progressed germ theory; saved France's silk industry during a silkworm epidemic in the mid-19th century; secured France's wine trade; improved beer production; discovered the microbiological basis of vinegar; and discovered molecular chirality.
"Simply put, Pasteur reached a multitude of scientific milestones, which evidently make him a highly significant figure in modern medicine."
In recognition of these achievements, Pasteur was made a Foreign Honorary Fellow of the Royal Society of Medicine in 1883. Visitors to the exhibition can view the original, 140-year-old nomination and ballot papers.
However, it was another exhibit that caught Frances' eye. She said: "One of the most interesting parts of the exhibition is Pasteur's Résultats de l'application de la méthode pour prévenir la rage après morsure, 1886 [Results of the application of the method to prevent rabies after bite].
"It includes some quite grizzly details on the symptoms of rabies which I had not known before.
"Hydrophobia, for instance, is a strange characteristic that occurs in the later stages of rabies – as are hallucinations, delirium and seizures.
"The visceral observations of the disease, to me, highlight the brilliance of Pasteur's research – it was evident that rabies caused an immense amount of suffering and fear in France at the time, which Pasteur was able to alleviate."
Frances also recommends checking out the "surprising addition" of a book of Pasteur's drawings.
Celebrating 200 Years of Louis Pasteur is open weekdays 9.30am-6pm (5.30pm on Fridays) until January 2023 at the Library, Royal Society of Medicine, 1 Wimpole Street, London. Entry is free and open to all.