Professor V Craig Jordan, CMG, OBE, PhD, DSc, FMedSci, is a pharmacologist and Honorary Fellow of the Royal Society of Medicine. Born in Texas, he moved to the UK as a child and was educated in Cheshire and at the University of Leeds. Professor Jordan is known as the 'Father of Tamoxifen' for his ground-breaking work on breast cancer treatment and prevention and is the Dallas/Fort Worth Living Legend Chair of Cancer Research. He is currently Professor of Breast Medical Oncology, and Professor of Molecular and Cellular Oncology at the University of Texas MD Anderson Cancer Center, Houston, Texas.  
I wasn't a bright student at school
Although I passed the entrance exam to get into grammar school, I struggled academically. I had one passion though, and that was chemistry. My mother let me convert my bedroom into a real laboratory and it was fit for use to do anything, including setting the curtains on fire on one occasion.
I was heading for a career as a chemistry technician in the pharmaceutical industry but my headteacher gave me the chance to stay on in the sixth form to get the A' levels I needed to study pharmacology at the University of Leeds.
My fascination with oestrogen started with my PhD
A scholarship from the Medical Research Council allowed me to undertake a PhD at Leeds University, where my supervisor, the pharmaceutical chemist Dr Edward Clark, inspired my lifelong fascination with oestrogen receptors. However, there was very little interest in this area of research and there was only one person in the UK who would agree to examine my PhD.
That person was Dr Arthur Walpole who worked for ICI (Imperial Chemical Industries) and held the patent for the compound that would eventually become tamoxifen. He became a central person in my life and opened the door for me to travel to the USA to carry on my research at the Worcester Foundation for Experimental Biology, Massachusetts. I stayed there for two years before coming back to the UK to join the faculty at Leeds University.
Tamoxifen, compared with chemotherapy, had no side-effects so people thought it didn't work
When I first began researching tamoxifen it was being used to treat end-stage breast cancer. It worked only for a year or two in treatment of advanced disease before the patients died. Because there were no side effects compared with cytotoxic chemotherapy, questions were raised about its effectiveness.
I was convinced that long-term treatment with tamoxifen would work to prevent further disease in women with micro-metastatic breast cancer, which was normally treated with mastectomy followed by chemotherapy.
It was a fight to get my research rationale accepted because of the one-dimensional idea at the time that tamoxifen should be given as a short-term treatment. I'd go to meetings to talk about tamoxifen and people would ask how I knew it worked when it didn't have any side effects. But I was able to show in animal data that the long-term approach worked.
My approach was proven when the results of an Edinburgh clinical trial, published by The Lancet in 1987, showed that long-term tamoxifen treatment for five years kept people alive.
Recently, I've been contacted by a woman who has taken tamoxifen for 37 years
In 1980 I was offered a job by Dr Paul Carbone, head of the Wisconsin Cancer Center at the University of Wisconsin, who shared my conviction about tamoxifen. He took on board the data from my animal studies and, after carrying out more experiments, began offering long-term tamoxifen therapy to women in his breast cancer clinics, despite the clinical trial data being six or seven years away.
Recently, I've been contacted by one of those women who has taken tamoxifen for 37 years and wants to celebrate its 40th anniversary. All because Paul Carbone said never stop taking tamoxifen.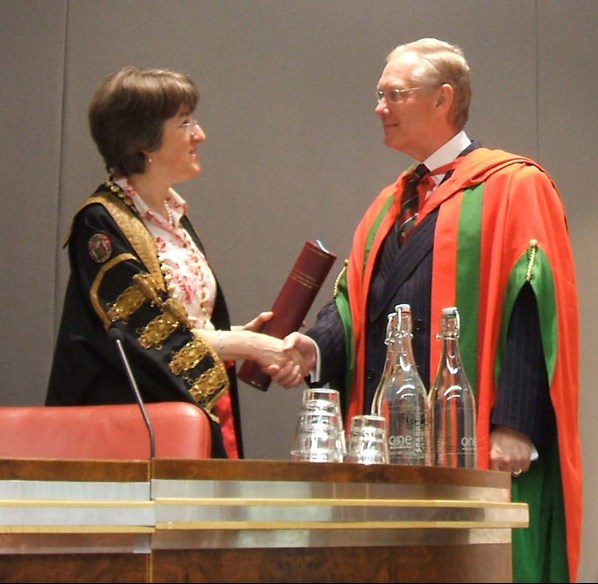 In 2008 Professor Jordan was awarded an Honorary Fellowship by the then President of the Royal Society of Medicine, Professor Ilora Finlay, Baroness Finlay of Llandaff.
I look at challenges as adventures
I've never looked at challenges in a negative sense. I've always had a 'have brain, will travel' perspective on life – if you offer me a job I'll always consider taking it on. I've set up labs in Leeds, Switzerland and all over the United States, and get enormous satisfaction from the wonderful young people whose lives have been changed by joining my tamoxifen teams and who have gone on to become leaders in healthcare across the world.
It's tough getting on in the field of biomedical sciences
Any young person in biomedical sciences who wants to be successful is entering a tough world. In my autobiography, Tamoxifen Tales. Suggestions for Scientific Survival, I've distilled the good, the bad and the ugly of my career and offer a dozen suggestions on how to survive and thrive, including 'if your boss isn't on your side, it's a waste of time!'
Repaying society for opportunities offered is important to me
If it hadn't been for my school and university education and grants from the Medical Research Council and other organisations, I wouldn't be doing what I'm doing now and this has instilled a strong sense of public service. Repaying society for the opportunities I've been offered is important and I am pleased to have served in the British Army both in the UK and the US. I've also invested in universities, mostly at the University of Leeds by funding prizes and paying the fees for numerous talented intercalating medics over the decades, and also sponsoring lectureships at the universities of Wisconsin and Oxford.
I look at the RSM as a home
I've always thought of the RSM as a home, especially when I'm greeted so warmly by the staff when I walk through the door. I got involved with the RSM primarily through the good offices of the late Professor Alan Roberts, who I first met when he was a major in the army reserves and I was an officer cadet at the University of Leeds Officer Training School.
Many years later, Alan wrote to me after I received my honorary degree for humanitarian research from the University of Leeds and a great friendship was forged which lasted throughout the ten years I spent as President of the RSM Foundation in the USA, right up until his untimely death late last year.