We recently awarded two of our longest serving members of staff with medals, congratulating them for an incredible combined 70 years working at the Royal Society of Medicine. 
Beata Coffey, Information Specialist, has been helping members find the information they need from our library services for thirty years. And while many of our members will be familiar with Karen Clark, our Membership Manager, only those who have been with us a certain amount of time may know she's now been working here for a grand total of forty years. 
We asked Beata and Karen what it is about the RSM that keeps them happy and fulfilled in their jobs here. 
Beata Coffey, Information Specialist  
"I work as the Information Specialist in the Library. I look after the literature search service, information skills training and contributing material to RSM educational events.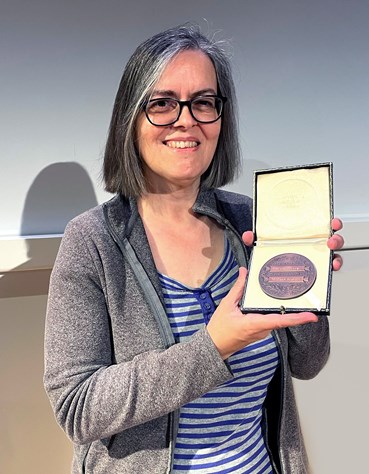 Beata Coffey, Information Specialist at the RSM, holds her medal in recognition of three decades of service 
"The RSM Library has given me the opportunity to develop in-depth information skills and acquire new skills in a constantly evolving library world. The freedom the RSM has given me to continually develop my professional skills keeps me here as well as the many wonderful colleagues I work with or have worked with."
Karen Clark, Membership Manager 
"When I started at the RSM, most of the admin offices were in Chandos House, as the main building was being refurbished. I worked there for four years before coming across to 1 Wimpole Street in 1986 - just in time for the re-opening by Her Majesty The Queen and Prince Philip.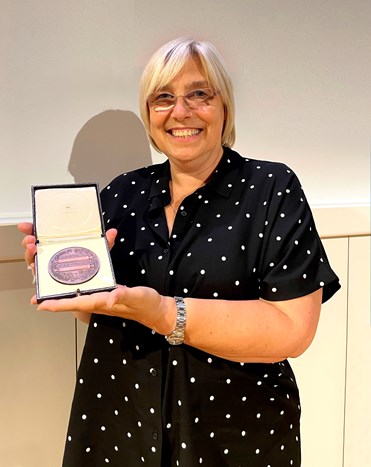 Karen Clark, Membership Manager at the RSM, with her medal awarded to celebrate her four decades of service 
"Technology was limited in those days. I used a manual 'electric' typewriter for all correspondence to members, before moving on to a PC and, eventually, a laptop. 
"So many things have changed over the years, too many to mention, but one of the reasons I have stayed for so long is the uniqueness of the RSM. I do feel that it's the members and staff, both past and present, that make the RSM what it is, and I have made some life-long friends over the years."
We hope you'll join us in congratulating Beata and Karen, and we look forward to working with them both for many more years to come.