On Saturday 10 December the RSM was abuzz with the sound of over 160 sixth form students, medical students and foundation year doctors who came to the Society to take part in a specialty careers fair.
Offering a unique opportunity to explore their career options, the event allowed participants to network with experienced clinicians and hear presentations about routes through training and what to expect when following specific career paths. Talks on surgery and medicine ran in parallel throughout the programme, which was co-hosted by Professor Nik Patel Chair of the RSM's Academic Board and Dr Hiten Patel, former RSM Trainee Council Trustee.
Opening the event, Professor Patel said to the audience: "When choosing your specialty have a deep think. What do you enjoy most? Do you want to be on the front line? Do you want to be looking after patients in primary care? Do you want to have more time to talk to patients? Different specialties offer you different opportunities." He went on to talk about the importance of considering life-time goals. "Do you want to work full-time or part-time? Will a career break be possible? Choose a specialty that will fit with how you might want to work in the future. Most importantly, choose a specialty that will allow you to feel fulfilled."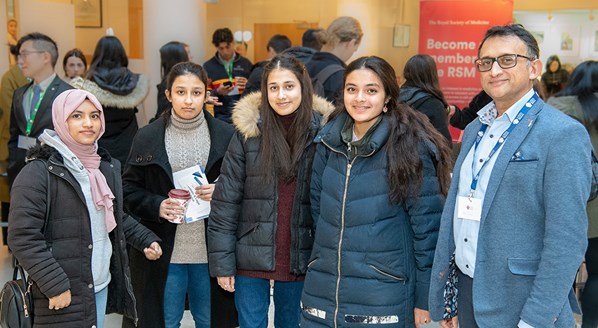 Members of the Future Leaders Programme with Professor Nik Patel, Chair of the RSM's Academic Board
As well as tips and advice on maximising their chances of being selected for specialty training, participants at the event heard about the personal characteristics best-suited for different specialties and the importance of keeping up-to-speed with digital technology and the future of medicine. Research opportunities in the different specialties were explained, and there was some myth-busting about perceptions surrounding particular specialties.
Attending the event were Zoe Joshi and Rifah Kallayil, members of the Future Leaders Programme for Year 12 students from underrepresented backgrounds in London. "I found this event very informative – it helped me know the options for my career while making it clear that I'm not under pressure to make decisions now," said Ms Joshi.
Speaking at the end of the programme, Prof Patel added: "Seeing the next generation of doctors and healthcare professionals engaged and interested in hearing from clinicians passionate about their specialties made the event a great success and gave some excellent opportunities for cross-Section collaboration within the RSM."