Two BBC News journalists have become the first recipients of a new prize celebrating journalism that exposes fake health news.
The inaugural Sarah Hughes Trust Prize was presented to Rachel Schraer and Jack Goodman at a special event at the Royal Society of Medicine on Friday 2 December 2022.
Their winning October 2021 article for BBC Reality Check, which uncovered the false science fuelling belief in ivermectin as a COVID-19 'miracle drug', has been read three million times.
The annual prize, in memory of the late Guardian and Observer journalist Sarah Hughes, was set up to recognise exceptional journalism that exposes false or misleading information – so-called 'fake news' – in health or medicine.
Accepting the award from Harriet Tyce, who is Chair of the Sarah Hughes Trust and the judging panel, and Jane Symons from the Medical Journalists Association, Rachel Schraer, BBC News, Health Disinformation Reporter said: "It's a real honour to be recognised in the memory of Sarah Hughes, who I know was committed in her journalism to understanding all elements of the human condition.
"Although our investigation relied on some quite technical crunching through the data and underlying clinical trials, the story itself came from a very potent mix of human fear, wishful thinking and ideology."
Co-winner Jack Goodman, BBC News, Senior Journalist added: "We couldn't prove whether ivermectin worked against this virus. But our reporting did dismantle the foundations that built a compelling story about a supposed miracle drug."
The prize presentation came at the end of the annual Sarah Hughes Trust Lecture, which this year was given by Dame Marina Warner. Her talk examined fake news through the lens of literature and mythology and aimed to distinguish between "invented, imaginative storytelling" and deception posed as truth.
In a lecture that took the audience on a journey from Auden, Tolkien and Yeats to QAnon and Twitter, Dame Marina championed the power of fiction in reimagining societies.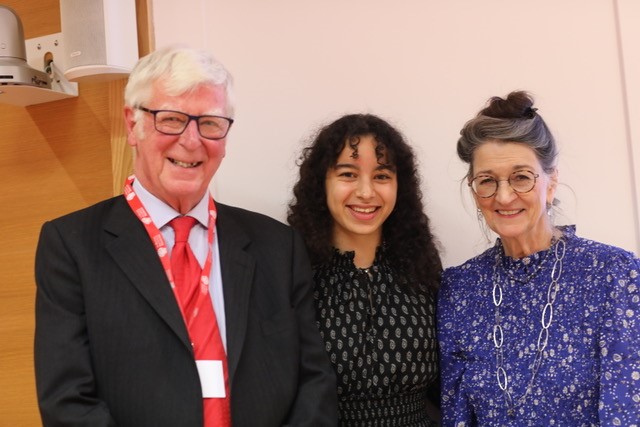 Sean Francis Hughes, Hareya Hailug medical student representative on council History of Medicine Society and Dame Marina Warner. Credit: Roger Kirby
Dame Marina was invited to give the lecture by the Sarah Hughes Trust and the RSM History of Medicine Society. When Professor Sean Hughes, Sarah's father and immediate past president of the History of Medicine Society approached Dame Marina, she asked 'why me?' - Sean told her that Sarah had some of her books in her enormous library. Dame Marina said: "I feel very proud to have reached her, and to have answered in some small way her exuberant appetite for all kinds of stories and experiences.
"Sarah tackled very painful subjects with a kind of curiosity and steadfast honesty. That's pure courage.
"I'm very honoured and very touched."
Sarah Hughes was a talented journalist who died from breast cancer on Easter Monday 2021 at the age of 48. She was, Harriet Tyce said, "fearless in her approach to the honesty and truth of her own work". Her family and friends crowdfunded to establish in her name a Trust, an annual lecture and prize as well as internships in the Guardian.
The Sarah Hughes Trust Prize is awarded in conjunction with the Royal Society of Medicine and the Medical Journalists Association.