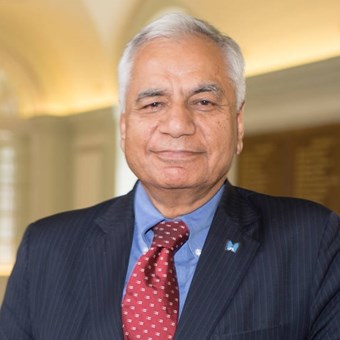 Professor Dinesh Bhugra
Emeritus Professor of Mental Health and Cultural Diversity at the Institute of Psychiatry, Psychology and Neuroscience at King's College London
Speaker's biography

Professor Dinesh Bhugra CBE is the current President of the BMA Council. 

He is Emeritus Professor of Mental Health and Cultural Diversity at the Institute of Psychiatry, Psychology and Neuroscience at King's College London and honorary consultant at South London and Maudsley NHS Foundation Trust. 

He was President of the World Psychiatric Association from 2014-2017 and in 2017 became President-Elect of the British Medical Association.  

Dinesh Bhugra's research interests are in cultural psychiatry, sexual dysfunction and service development. He is the recipient of over 10 honorary degrees. He has authored/co-authored over 400 scientific papers and 32 books two of which have been translated into Chinese and Japanese. He is also the Editor of three journals (International Journal of Social Psychiatry, International Review of Psychiatry and International Journal of Culture and Mental Health).  

Previously he was the Dean (2003-2008) and then President (2008-2011) of the Royal College of Psychiatrists in the UK, where he led on major policy initiatives on psychiatry's contract with society, public mental health and the role of the psychiatrist. He has led on major international surveys on discrimination against people with mental illness and medical students' interest in psychiatry.