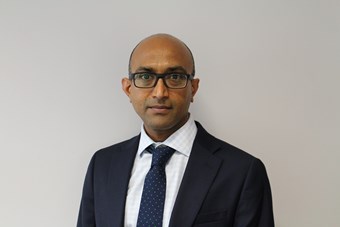 Professor Athimalaipet V. Ramanan, FRCPCH, FRCP
Consultant Paediatric Rheumatologist, Bristol Royal Hospital for Children, and the Royal National Hospital for Rheumatic Diseases, Bath, UK 
Speaker's biography

Professor Athimalaipet V. Ramanan is a consultant paediatric rheumatologist at the Bristol Royal Hospital for Children and the Royal National Hospital for Rheumatic Diseases, Bath, UK. He is the joint lead for research (Division of Women and Children) at the Bristol Royal Hospital for Children, and Professor of Paediatric Rheumatology at the University of Bristol.

 

Professor Ramanan is a medical advisor for the National Rheumatoid Arthritis Society, Olivia's Vision and the National Ankylosing Spondylitis Society. He is also Chair for the National Institute for Health Research Clinical Research Network: Children/Arthritis Research UK (ARUK) Paediatric Rheumatology Clinical Studies Group, and Associate Director for the UK Experimental Arthritis Treatment Centre for Children (JIA-Uveitis and Industry work streams). He was awarded the British Society of Rheumatology's Innovation in Clinical Practice Award in 2010. He was also awarded the University of Bristol Vice Chancellor's Health Impact award in 2017 and Royal College of Physicians/NIHR CRN Award for outstanding contribution to research in 2018

 

Professor Ramanan's research interests focus on biologics for uveitis in children, juvenile dermatomyositis, genetic aspects of JIA, and macrophage activation syndrome, and has published >170 articles and numerous book chapters covering a variety of topics in the field of rheumatology. He is the Co-Editor of Rheumatology and Associate Editor for the Archives of Diseases in Childhood.