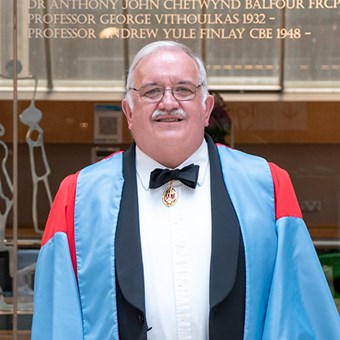 Professor Sir Stephen O'Rahilly
Professor of Clinical Biochemistry and Medicine, Director, MRC Metabolic Diseases Unit, Wellcome-MRC Institute of Metabolic Science, University of Cambridge, UK 
Speaker's biography

Professor O'Rahilly's research has been concerned with the elucidation of the fundamental mechanisms underlying obesity, insulin resistance and Type 2 diabetes and the translation of those discoveries into improvements in patient care. His work has uncovered several previously unrecognised genetic causes of these diseases including some that are amenable to specific treatments.

 

Professor O'Rahilly graduated in Medicine from University College Dublin in 1981. From 1982 to 1991 he undertook postgraduate clinical and research training in general medicine, diabetes and endocrinology in London, Oxford and Harvard. In 1991 he obtained a Wellcome Trust Senior Clinical Fellowship and established his laboratory at the University of Cambridge. In 1996 he was appointed to a newly created Chair of Metabolic Medicine and in 2002 to the Chair of Clinical Biochemistry and Medicine.

 

He is Co-Director of the Wellcome-MRC Institute of Metabolic Science (IMS), the establishment of which he led. Within the IMS, he is Director of the MRC Metabolic Diseases Unit and the Metabolic Research Laboratories of the University of Cambridge. He is also Scientific Director, NIHR Cambridge Biomedical Research Centre, Honorary Consultant Physician at Addenbrooke's Hospital, a Fellow of Pembroke College, Cambridge and an Associate Faculty Member of the Wellcome Sanger Institute.

 

Professor O'Rahilly has undertaken a substantial body of public service work for research charities, educational institutions and governmental organisations in the UK, Ireland and elsewhere. 

 

He has won many awards including the Heinrich Wieland Prize, the Inbev Baillet Latour Prize, the Zülch Prize, the European Hormone Medal, the first EASD/Novo Nordisk Foundation Diabetes Prize for Excellence and the Banting Medal for Scientific Achievement.

 

He gave the Harveian Oration of the Royal College of Physicians, London, in 2016. He was elected to the Royal Society in 2003, a Foreign Associate of the National Academy of Sciences USA in 2011, is an Honorary Member of the German Society for Internal Medicine and the Royal Irish Academy. He also holds honorary Doctorates from the Universities of Dundee, Warwick, Buckingham, University College Dublin and the Royal College of Surgeons in Ireland.

 

He was appointed Knight Bachelor in 2013.