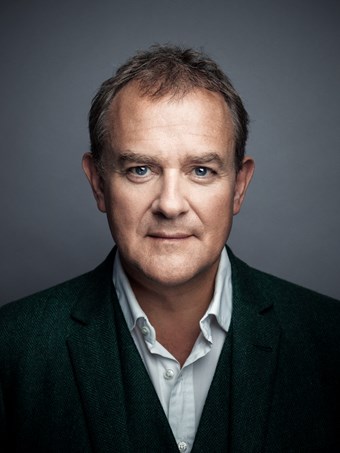 Mr Hugh Richard Bonneville
English film and television actor. He is best known for playing Robert Crawley, Earl of Grantham in the ITV historical drama series Downton Abbey. His performance on the show earned him a nomination at the Golden Globes and two consecutive Primetime Emmy Award nominations.
Speaker's biography

Hugh Bonneville was a member of the National Youth Theatre, studied Theology at Cambridge, and made his professional debut at the Open Air Theatre, Regent's Park, in 1986, bashing a cymbal in A Midsummer Night's Dream and understudying Ralph Fiennes as Lysander. He then spent several seasons with the National Theatre where he appeared in School for Wives, Yerma, Entertaining Strangers, Juno and the Paycock, played Charles Surface in The School for Scandal and the title role in The Devil's Disciple. He joined the Royal Shakespeare Company in 1991, appearing in Two Gentlemen of Verona, The Alchemist, 'Tis Pity She's a Whore, The Virtuoso and Amphibians. He also played Laertes to Kenneth Branagh's Hamlet. His work at the RSC brought him a nomination for the Ian Charleson Award. Other theatre includes Habeas Corpus at the Donmar, directed by Sam Mendes, and seasons at Colchester, Leicester Haymarket and Chichester. He also appeared in My Night with Reg (Criterion & Playhouse), US and Them (Hampstead) and Cloaca (Old Vic). Hugh played Dr Stockmann in Howard Davies' acclaimed production of An Enemy of the People at Chichester Festival Theatre in 2016 and C.S. Lewis in Shadowlands at the same theatre in 2019.

 

Hugh is a familiar face to television audiences, having played leading roles in The Cazalets, Take a Girl Like You, Armadillo, Daniel Deronda and The Commander. He also appeared in the Emmy award-winning The Gathering Storm and played the poet Philip Larkin in Love Again. Other credits range from comedies like The Vicar of Dibley, Freezing, Rev, Getting On, Mr Stink (BAFTA nomination, Best Comedy) and Galavant and Walliams and Friend, to dramas such as Diary of a Nobody, Tsunami: The Aftermath, Miss Austen Regrets, Five Days, Hunter, The Silence, Doctor Who and The Hollow Crown: The Wars of the Roses.

 

Over its six seasons, Downton Abbey won dozens of awards worldwide, and Hugh received a Golden Globe and 2 Emmy nominations for his performance as Robert, Earl of Grantham. The cast won 3 Screen Actors Guild awards for Best Ensemble and the show was awarded a special BAFTA for its unique contribution to TV drama.

 

Twenty Twelve won a British Comedy Award (2011) and a BAFTA (2013) for Best Comedy, Hugh being nominated two years running as Best Comedy Actor. Hugh's character, Ian Fletcher, then appeared in three seasons of W1A, a series about life at the BBC, which won the Broadcasting Press Guild Award for Best Comedy; Hugh received two more BAFTA nominations for his performance. He recently filmed a cameo appearance in Jingle Jangle, for Netflix.

 

Hugh made his feature film debut in Mary Shelley's Frankenstein in 1994, directed by Kenneth Branagh. His many film appearances since then include Notting Hill, Mansfield Park, Stage Beauty, Asylum, Scenes of a Sexual Nature, Man to Man, Julian Fellowes' From Time to Time, Glorious 39, Burke & Hare, Third Star, Shanghai, The Monuments Men, Viceroy's House,  Breathe, and the two Paddington films. Hugh received a BAFTA Best Supporting Actor nomination for Iris and won Best Actor at the Monte Carlo Film Festival for his performance in French Film. A feature film of Downton Abbey goes on general release in September 2019.

 

Behind the scenes, Hugh co-produced the first West End production of Jonathan Harvey's acclaimed Beautiful Thing at the Duke of York's Theatre in 1994 and wrote Half Time with Christopher Luscombe, which he also directed.

 

Hugh is a patron of the National Youth Theatre of Great Britain, The National Youth Arts Trust, Scene & Heard, Giant Olive Theatre Company, The Primary Shakespeare Company, and Mousetrap Theatre Projects. He is also a patron of the South Downs National Park Trust.