Date and time Tue 29 Sep 2020 from 5:00pm to 6:30pm
Location Online
Organised by Paediatrics and Child Health
The global coronavirus pandemic has had deep and far-reaching effects on the way we do paediatrics in the UK, and raised threats to the well being of children and young people. Join us for this incredibly unique webinar that seeks to showcase and encourage doctors to use arts and advocacy to help re-imagine paediatrics in a post COVID-19 world.
During this session, you'll be able to:
Define and outline the challenges facing paediatricians and children's services in a post COVID-19 landscape

Explore poetry as a form of reflective practice for doctors

Learn from leading clinicians about novel approaches to paediatric training and practice

Raise the profile of the role of advocacy and arts in shining a light on child health and social inequalities in a post COVID-19 Britain

Share a collective expression of love, solidarity and hope with the children of the nation
As paediatricians, we are concerned by:
The lack of children's voice during the pandemic

The impact on child safeguarding with increased vulnerability through higher exposure to domestic abuse, hidden child abuse, late presentation of injuries/illness, increase in food poverty, increase in neglect of children secondary to worsening deprivation and the loss of school as a protective presence in children and young people's lives

The exacerbation of already existing economic and health inequalities as a result of the pandemic

Increasing loneliness, isolation and removal from social and educationally stimulating environments
Despite all of these hardships, we the paediatricians were humbled and moved that the children wanted to thank key workers at the beginning of the pandemic with a film made by poet, Laura Mucha.
We want to say thank you back, and to raise the profile of child health. We have written and performed our own poem in response to the children and want to use this webinar to discuss how poetry and politics could help the profession to respond appropriately to this moment.
Join in the conversation online using #RSMPaeds
Follow us on Twitter: @RoySocMed 
The Royal Society of Medicine needs your support  
The RSM is offering this webinar at no charge to delegates, in order to help healthcare professionals to easily access COVID-19 related education material & resources during the pandemic.  However, we are asking people to support the RSM in these unprecedented times.  Now more than ever, as a charity we need your help to continue our work and mission in advancing healthcare through innovation and education. Please consider making a donation  for joining this free webinar. Thank you for your generosity 
Dr Gayle Hann
Consultant Paediatrician, North Middlesex Hospital
Laura Mucha
Acclaimed Poet and Author
View programme here

Welcome and introduction

Dr Guddi Singh, Paediatric Registrar, Guy's and St Thomas' NHS Foundation Trust and Dr Najette Ayadi O'Donnell, Paediatric Registrar, Kings College Hospital NHS Foundation Trust

Q&A discussion - chaired by Dr Guddi Singh

Laura Mucha, Acclaimed poet and author of our poem to the youth of the nation, Dr Camilla Kingdon, Vice President, Royal College of Paediatrics and Child Health and Consultant Neonatalogist, St Thomas' Hospital, Dr Gayle Hann, Consultant Paediatrician, North Middlesex University Hospital NHS Trust and Dr Najette Ayadi O'Donnell, Paediatric Registrar at Kings College Hospital NHS Foundation Trust
Disclaimer: All views expressed in this webinar are of the speakers themselves and not of the RSM nor the speaker's organisations. 
Registration for this webinar will close 2 hours prior to the start time. You will receive the webinar link 2 hours before the meeting. Late registrations will not be accepted.
Webinar recordings will be available for registered delegates up to 30 days after the live webinar, via Zoom. The link will be sent 24 hours after the webinar takes place. 
This webinar will be recorded and stored by the Royal Society of Medicine and may be distributed in future on various internet channels.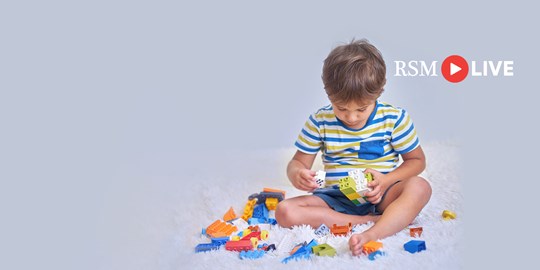 Join us for this first part of a two-parts webinar series to expand your understanding on MDT management of common neurological conditions in childhood and a range of other topics that are relevant to anyone working with infants, children and young people.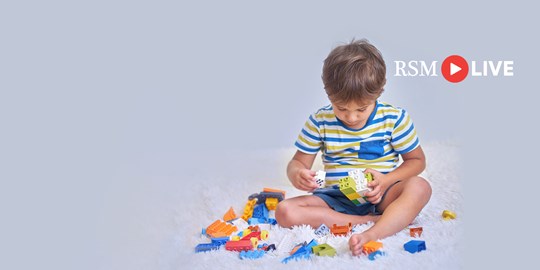 Join us for the second part of this two-parts webinar series to hear about the parents view of what matters when it comes to brain development of a child.