Date and time Tue 17 Mar 2020 from 8:45am to 7:00pm
Location Royal Society of Medicine
Organised by Paediatrics and Child Health
From expert presentations to simulated workshops, join us as we discuss the current best practices for treating a rapidly deteriorating patient.
At this meeting, you'll review the current advances in the treatment of acutely deteriorating child and learn how to identify signs of illness early. You will be able to experience these signs in an interactive and safe environment to consolidate their learning.
Attendees can expect to:
Learn about current advances in emergency treatment
Discover ways of effective decisions making, emergency medical leadership and team communication
Consolidate learning through experience in a simulated environment with expert Simulated interPRofessional Team (SPRinT) facilitators
The President's prize
First prize: £250
Second prize: £150
The two runner ups will receive a £20 Amazon voucher.
Submission deadline: Sunday 12 January 2020
Open to: Students and paediatrics trainees
Application guidelines: Submit a 750-word case summary related to the topic: "Paediatric emergency medicine". Four case reports will be shortlisted to present their work at a Paediatrics & Child Health meeting, from which the winner will be selected.
Join in the conversation online
Follow us on Twitter: @RoySocMed
Tickets
Standard pricing available until 16 March 2020.
Member
| RSM Fellow | RSM Associate | RSM Retired Fellow | RSM Trainee | RSM Student |
| --- | --- | --- | --- | --- |
| £125.00 | £85.00 | £85.00 | £85.00 | £35.00 |
Non - Member
| Consultant / GP | AHP / Nurse / Midwife | Trainee | Student |
| --- | --- | --- | --- |
| £180.00 | £105.00 | £105.00 | £50.00 |
Jan Till
Consultant, Senior Paediatric Electrophysiologist Divisional Director, Royal Brompton Hospital. Paediatric Cardiologist, International Expert in Paediatric Cardiac Electrophysiology
Margarita Burmester
Consultant Paediatric Intensivist, Royal Brompton Hospital. Director PICU, Director SPRinT programme
View the programme

Registration, tea and coffee

Welcome and introduction

Dr Margarita Burmester, Lead Consultant Paediatric Intensive Care Unit, Royal Brompton and Harefield NHS Foundation Trust and Director SPRinT Programme 

All that wheezes…

Dr Louise Fleming, Honorary Consultant in Paediatric Respiratory Medicine, Royal Brompton and Harefield NHS Foundation Trust and Clinical Senior Lecturer, Imperial College London

Fever and sepsis

Dr David Inwald, Consultant in Paediatric Intensive Care, Imperial College Healthcare NHS Trust

Is that tachycardia normal?

Dr Jan Till, Consultant Paediatric Electrophysiologist and Divisional Director of Children's Cardiac Services, Royal Brompton and Harefield NHS Foundation Trust

Diabetic ketoacidosis and all that

Dr Toranj Raimalwalla, Paediatric Intensive Care Unit Clinical Fellow, Royal Brompton and Harefield NHS Foundation Trust and SPRinT Faculty

Airway management and induction for the paediatrician

Dr Cathy O'Donoghue, Consultant Paediatric Anaesthetist, Royal Brompton and Harefield NHS Foundation Trust and SPRinT Faculty

Am I in charge? Leadership in medical emergencies

President's prize presentations (4 x 15 mins)

Session two: Practical simulations with the SPRinT (Simulated interProfessional Team training)

35 minute interactive rotational simulations

Close of meeting and drinks reception

Evaluations surveys will be sent via email and certificates of attendance can be found in the 'My Account' area on the RSM website
Location
Royal Society of Medicine, 1 Wimpole St, Marylebone, London, W1G 0AE, United Kingdom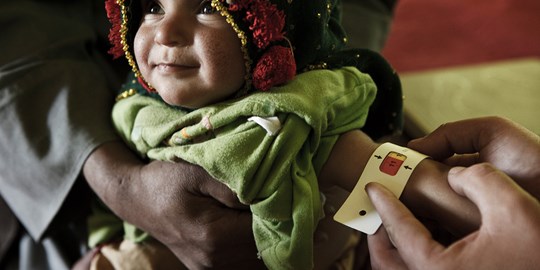 This event will explore current issues in global child health and how these impact children both at home and abroad. With exciting world-renowned experts, a practical ETAT resuscitation session designed for low-income countries, and experiences of children affected by global issues here in the UK.
Join us for an overview of common clinical problems that adolescents face, including eating disorders, sleep patterns and acute presentations. Plus don't forget to enter the Tim David Prize for the chance to win £250 and a year's free RSM membership.
Book

Book