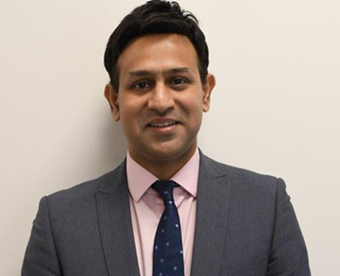 Dr Prashanth (Prash) Vas MBBS, FRCP, PhD
Consultant, Diabetes and Diabetes Foot Medicine, King's College Hospital NHS Foundation Trust, UK
Speaker's biography

Dr Vas currently works as a Consultant in Diabetes and Diabetes Foot Medicine at King's College Hospital the first dedicated multidisciplinary foot clinic in the world. Prior to this, he undertook his clinical specialist training in the East of England including Addenbrookes Hospital, Cambridge, which also included a period of research at the Ipswich Diabetes Research Unit. He is an Honorary Senior Clinical Lecturer at King's College London and a visiting professor at the University of Staffordshire.

 

Dr Vas's current research is focused on the lower limb complications of diabetes including the aetiopathogenesis and treatment of diabetic foot ulcers, diabetic neuropathy (especially small-fibre neuropathy) and in the validation of new techniques designed for the early detection of neuropathy. Alongside Prof Rayman, he was involved in the development of the Ipswich Touch Test, now widely recognised as a simple reliable method for assessing loss of protective foot sensation, adopted by Diabetes UK as the 'Touch the Toes' test. He has also been a part of two Quality in Care - Diabetes award-winning teams.

 

Dr Vas has served been an expert advisor to the UK's National Institute of Clinical Excellence (NICE) and to the International Working Group on the Diabetic Foot (IWGDF). He is the co-founder of the British Diabetic Neuropathy Symposium, which is the only academic meeting in the UK on diabetic neuropathy.

 

In addition to maintain an active clinical schedule at King's College Hospital, Dr Vas continues to train and teach professionals to provide a high-quality diabetic foot and neuropathy service for patients so they can be seen as quickly as possible with the highest level of care.