Date and time Fri 18 Jun 2021 from 3:55pm to 7:00pm
Location Live stream - online
Organised by Coloproctology
Join this live stream of the prestigious John of Arderne prize for a chance to hear surgical trainees and medical students present their colorectal research papers, followed by the annual Presidential Address.
If you would like to attend this event in London, please book your place here.
In an interactive forum, trainees will present and discuss their research and answer questions from the audience. Member of the Council of the Coloproctology Section will award the John of Arderne medal to the best research paper presented at this meeting.
The prize meeting will be followed by the Presidential Address with RSM's new Coloproctology Section President, Professor Sue Clark. Professor Clark was a Commissioner at the Royal College of Surgeons of England's Commission on the Future of Surgery, and is now the College's Genomics Champion. She will be talking about her career as a surgeon, researcher, trainer and educator, and discuss her passion for making the future happen in coloproctology. 
The reminder of this meeting will be devoted to outline Coloproctology Section's theme 'The Future of Coloproctology', which will be the theme for all meetings in the 2020/21 academic year.
During this session, participants will be able to:
Understand findings of current research in coloproctology over six selected topics and ask questions to the presenter

Know which broad areas of change are likely to have an impact on coloproctology over the next 20 years
Join in the conversation online #RSMLive
Follow us on Twitter: @RoySocMed
CALL FOR ABSTRACTS: John of Arderne prize
Prize: The John of Arderne medal and a travelling fellowship to the following year's overseas meeting in Western Australia
Submission deadline: Wednesday 18 November 2020
Open to: All coloproctology and surgery trainees and medical students
Abstract guidelines:
Abstracts should state briefly and clearly the purpose, methods, results, and conclusions of the work and must not exceed 200 words.
For further information, please contact coloproctology@rsm.ac.uk.
Professor Sue Clark
President, RSM Coloproctology Section, Consultant Colorectal Surgeon, St Mark's Hospital 
View the programme

Welcome and introduction

Presentation of 2019-20 session John of Arderne medal   
Miss Helen Chave and Professor Sue Clark

John of Arderne prize session

Addressing the quality of hospital care of colorectal cancer patients undergoing surgery: what can we learn from the national bowel cancer audit to improve future practice?

The use of magnetic resonance imaging (MRI) should be mandatory in all cases of advanced rectosigmoid and sigmoid cancer

Re-evaluating the pouch surveillance strategy in familial adenomatous polyposis (FAP): experience of a polyposis registry in the United Kingdom over 40 years.

Using the faecal immunochemical test in patients with rectal bleeding.

Serial monitoring of circulating tumour DNA for early detection of recurrence in colorectal cancer.

Surgical skill determines clinical and pathological outcomes following laparoscopic TME.

Review of the programme of 2019- 20

Mr Gordon Buchanan, Honorary Secretary, Section of Coloproctology

Introduction to the programme for 2020-21

Mr Henry Tilney, Honorary Secretary Elect, Section of Coloproctology

Official handover of the President's chain of office

Miss Helen Chave, President, Section of Coloproctology

Presidential address – The future of colorectal surgery

Professor Sue Clark, President, Section of Coloproctology
Disclaimer: All views expressed in this webinar are of the speakers themselves and not of the RSM nor the speaker's organisations. 
Special rates for difficult times
The RSM wishes to offer healthcare professionals continued learning opportunities during the coronavirus pandemic. The RSM's COVID-19 online events are available free of charge, while there will be small charges to register for other online education. These fees will enable the RSM to continue its programme of activities and will apply during the course of the pandemic. 
Registration for this webinar will close 2 hours prior to the start time. You will receive the webinar link 2 hours before the meeting. Late registrations will not be accepted. 
Webinar recordings will be available for registered delegates up to 30 days after the live webinar, via Zoom. The link will be sent 24 hours after the webinar takes place. 
This webinar will be recorded and stored by the Royal Society of Medicine and may be distributed in future on various internet channels.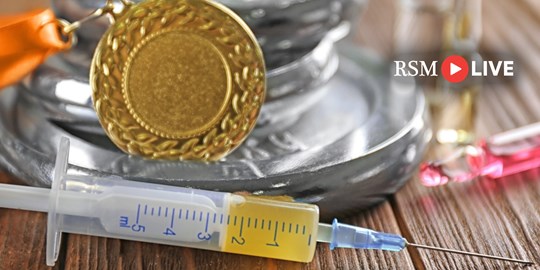 Join us for the prestigious John of Arderne prize for a chance to hear surgical trainees and medical students present their colorectal research papers, followed by the annual Presidential Address.