Date and time Tue 26 Oct 2021 from 6:00pm to 7:30pm
Location Online
Organised by Clinical Neurosciences
This webinar will provide you with a comprehensive understanding and increased awareness of the wide spectrum of medical conditions where an underlying dysfunction of small nerve fibres is the main cause or a main contributing factor.
Experts will examine conditions including 'classical' small fibre neuropathy, postural orthostatic tachycardia syndrome (PoTS), fibromyalgia, 'dry eye syndrome', hyperactive bladder/interstitial cystitis, and bowel disorders. 
This is a multidisciplinary webinar suitable for (but not limited to) medical professionals in clinical neurosciences, urology, ophthalmology, coloproctology, gerontology and geriatrics, obstetrics and gynaecology, orthopaedics, paediatrics, pain management, and cardiology. 
During this webinar speakers will cover:
How to recognise potential nerve fibre dysfunction in different medical conditions
The role of small nerve fibres in apparently disconnected pathologies
Methods to assess small fibre neuropathy
CPD learning applied. 
Join in the conversation online using #RSMLive
Follow us on Twitter: @RoySocMed
Dr Alistair Purves
President, Clinical Neurosciences Section, Royal Society of Medicine and Consultant Clinical Neurophysiologist, Kings College Hospital, UK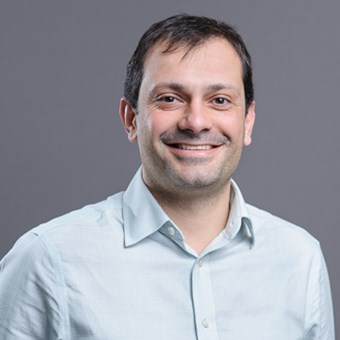 Dr Andreas C Themistocleous
Clinical lecturer in neurophysiology, University of Oxford
Speaker's biography

Andreas completed his undergraduate medical training, PhD and internal medicine training at the University of the Witwatersrand in Johannesburg, South Africa. He moved to the University of Oxford in 2013 to work as a Clinical Research Fellow in Professor David Bennett's lab and pursued his research interests in neuropathic pain.

 

Since 2018 he has worked as a clinical lecturer and specialist registrar in clinical neurophysiology. His main research interest is how nerve injury changes nociceptive fibres and how these changes contribute to neuropathic pain.
Dr Nicholas Peter Gall
Consultant Cardiologist, King's College Hospital
Speaker's biography

Dr Nicholas Gall qualified in 1993 from Guy's and St Thomas' Hospitals medical school. He subsequently trained in General Internal Medicine and then in Cardiology in the South East Thames region. He was appointed a Consultant Cardiologist in 2004, initially between King's College Hospital and Guy's and St Thomas' Hospitals and then in 2008, solely at King's College Hospital. He is also an Honorary Senior Lecturer at King's College, London.

 

Dr Gall is a Cardiologist with a special interest in the investigation and treatment of arrhythmia (cardiac electrophysiology), including inherited syndromes. He developed a particular interest in dizzy spells, blackouts and collapses of uncertain cause, which led to the development of the Neuro-cardiology service at King's. Working closely with colleagues in neurology, neuro-otology and psychiatry, the clinics now see patients from around the UK with this problem. All forms of transient loss of consciousness are managed in the service with patients sign-posted to other experts as required. PoTS, inappropriate sinus tachycardia, orthostatic intolerance and other autonomic conditions are a particular focus with the clinic now being one of the largest in the UK.

 

Dr Gall has published in many areas of cardiology and in particular on arrhythmia subjects and more latterly in PoTS. He has been involved in many research studies, particularly in syncope. A research program particularly focussing on PoTS is ongoing with a number of recent publications. He has spoken at numerous conferences, both in the UK and abroad, on arrhythmia and syncope subjects. With Prof Kavi, he developed the PoTS masterclass, the first PoTS-focussed medical conference in the UK. He has run the highly successful London Syncope conference since 2010, focussing on the management of patients suffering transient loss of consciousness. Dr Gall is a Patron to PoTS-UK, the national PoTS charity and is a medical adviser to STARS, the national blackout charity.
Dr Jordi Serra
Consultant, Department of Clinical Neurophysiology, King's College Hospital
Speaker's biography

Dr Jordi Serra has been a Consultant in Clinical Neurophysiology at King's College Hospital since 2014. Dr Serra received his medical degree in 1988 from the University of Barcelona and completed his Neurology specialty in 1992 in Barcelona. He spent the following years as a Neuromuscular Fellow at Good Samaritan Hospital and Oregon Health Sciences University in Portland, Oregon, USA, where he specialized in the study, diagnosis, and treatment of neuropathic pain patients.

During this period, he was trained in the technique of microneurography. Microneurography offers an unrivalled tool to study spontaneous pain in humans by producing objective records of the abnormal nerve impulse activity responsible for paresthesia (myelinated fibers) and spontaneous pain (unmyelinated fibers). This is the only available technique to detect and quantify positive sensory phenomena of peripheral nerve origin in humans by recording individual action potentials from single sensory fibers. Dr Serra's pioneering work on the recording of abnormal spontaneous activity in C-nociceptors from patients and animal models of neuropathic pain is widely cited in the medical literature.

Dr Serra's expertise also lies in the areas of electromyography, nerve conduction studies, evoked potentials, quantitative sensory testing, thermography, and intraoperative electrophysiological monitoring.

He co-founded both the Pain section of the American Academy of Neurology and the Neuropathic Pain Group of the Spanish Society of Neurology, where he served as the first Chairman. He is a member of the International Association for the Study of Pain (IASP), the British Society of Clinical Neurophysiology, the Spanish Society of Neurology, and the Spanish Pain Society.

Dr Serra has authored many scientific journal articles and book chapters. He is a frequently invited speaker and organizes courses on neuropathic pain. He also serves as a reviewer for several scientific journals.
View the programme

Welcome and introduction

Dr Alistair Purves, Department of Clinical Neurophysiology, King's College Hospital and President, Clinical Neurosciences Section, Royal Society of Medicine

Small fibre neuropathy from the neurologist's point of view

Dr Andreas Themistocleous, Nuffield Department of Clinical Neurosciences, University of Oxford

Small nerve fibre involvement in different medical conditions: How to recognise and assess it

Dr Jordi Serra, Consultant, Department of Clinical Neurophysiology, King's College Hospital

The example of postural orthostatic tachycardia syndrome

Dr Nick Gall, Department of Cardiology, King's College Hospital
Disclaimer: All views expressed in this webinar are of the speakers themselves and not of the RSM nor the speaker's organisations.
Special rates for difficult times 
The RSM wishes to offer healthcare professionals continued learning opportunities during the coronavirus pandemic. The RSM's ​weekly COVID-19 Series ​webinars remain free of charge, while there will be small charges to register for other online education. These fees will enable the RSM to continue its programme of activities and will apply during the course of the pandemic.
Registration for this webinar will close 2 hours prior to the start time. You will receive the webinar link 2 hours before the meeting. 
Late registrations will not be accepted.
This webinar will be available for registered delegates 30 days after on Zoom. The link will be sent 24 hours after the webinar takes place. 
This webinar will be recorded and stored by the Royal Society of Medicine and may be  distributed  in future on various internet channels.