The Students Section's purpose is to provide the opportunity for enthusiastic medical, dental and veterinary students from across the country to meet and share experiences, opinions, activities and opportunities to learn and develop their future careers.
'An evening with...' series
'An evening with' offers a unique platform for medical students to interview preeminent figures in a field they are passionate about. Each episode will explore a different topic, allowing an intimate insight into the inner workings of a pioneer in the field.
Keep checking here for future episodes. 
RSM Students specialty booklets
The RSM Students Section specialty booklets for medical students, by medical students! These booklets aim to increase your knowledge of medical and surgical specialties, by providing you with exclusive content that is not readily accessible otherwise.
Latest booklet: 
Section Council members
Section meetings and conferences are usually organised by members of the Section Council, led by the Section President and often in collaboration with specialist societies.
Interested in joining the Section Council?
Section Councils play a pivotal role at the RSM and we are always looking for members who would like to get involved. If you would like to apply, please complete our application form and a Council representative will be in touch.
Upcoming student events and webinars
View all events and webinars being run by the Students Section.
There are no future events currently planned by this section
Research methods and skills training days
The RSM Library offers a range of training tutorials to help you develop and improve your database searching, research and writing skills.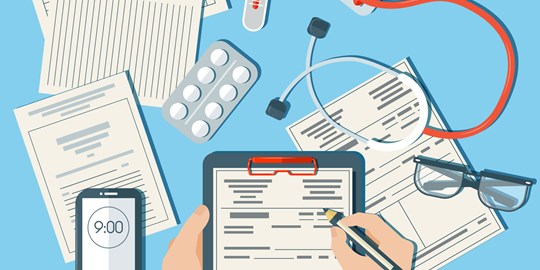 Increase your knowledge of research methods and hone your skills to evaluate research papers.
Students Section: Tomorrow's surgeons conference 2021 essay prize
This prize aims to reward thoughtful and original answers to address our essay question: 'Climate crisis is the greatest global health challenge of the 21st century. How can the NHS best minimise the environmental impact of Surgery over the next decade?'
Prizes:
First prize: £100
Second prize: £50
Third prize: One year's free RSM membership
Open to
All UK medical students
Submission deadline
Sunday 14 March 2021
Application guidelines
We invite submissions of essays up to 1,500 words on the proposed question. Responses should discuss the effects of surgery on the environment, and discuss one or more ideas for reducing emissions and/or improving sustainability in the specialty. Potential challenges for discussion could include but are by no means limited to greenhouse gas emissions, energy usage, use of material resources, and production of waste. Responses may be specific to one surgical sub-specialty or address the discipline more broadly.
Essays will be marked according to the extent to which they identify one or more specialty-specific environmental impacts, and offer thoughtful, original suggestions for how they could best be managed. There will be additional marks available for the quality of written work, particularly for answers that are appropriately structured, well-written, and engaging.
All three winners will be invited to give a short presentation at the national Tomorrow's surgeons conference on Saturday 27 March 2021.
Apply here
Students Section: Tomorrow's surgeons conference 2021 poster prize
Open to
All UK medical students
Submission deadline
Thursday 18 March 2021
Application guidelines
Submit a 250-word abstract of original research, review or quality improvement project on any surgical topic. The abstract should be clearly structured with introduction, methods, results and conclusion sections. They should also include the title of the poster, the presenting author's name, any other authors and their professional role and affiliation.
Shortlisted candidates will be required to create an online poster for their presentation in widescreen PowerPoint size (16:9) which will be presented at the national Tomorrow's surgeons conference on Saturday 27 March 2021.
Apply here
Join the RSM today
Become a member today and get discounted rates on our education programme.
For professionals with a medical, dental or veterinary qualification recognised by GMC, GDC or RCVS.
Fellow
For professionals working in the healthcare sector or with an interest in healthcare issues and do not qualify for a Fellow membership. 
Associate
For students studying medicine, dentistry or an undergraduate qualification in a healthcare-related subject, in the UK or overseas. 
Student