The Students Section's purpose is to provide the opportunity for enthusiastic medical, dental and veterinary students from across the country to meet and share experiences, opinions, activities and opportunities to learn and develop their future careers.
RSM Students specialty booklets
The RSM Students Section specialty booklets for medical students, by medical students! These booklets aim to increase your knowledge of medical and surgical specialties, by providing you with exclusive content that is not readily accessible otherwise.
Section Council members
Section meetings and conferences are usually organised by members of the Section Council, led by the Section President and often in collaboration with specialist societies.
Interested in joining the Section Council?
Section Councils play a pivotal role at the RSM and we are always looking for members who would like to get involved. If you would like to apply, please complete our application form and a Council representative will be in touch.
Mr Aleksander Michal Dawidziuk
President
Mr Callum Prosser
Honorary Secretary
Miss Josephine Elliott
Honorary Treasurer
Upcoming student events and webinars
View all events and webinars being run by the Students Section.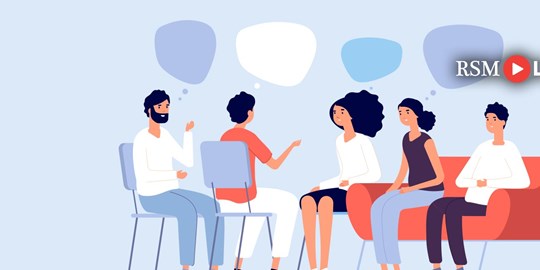 Ms Natalie Fine, Education Policy Analyst at the General Medical Council, Dr Rachel Clarke, author and doctor at the University of Oxford and Dr Helen Sheldon from The Balint Society, join us for this...
Book

Book
Students Section: Sidney Linton Prize
Prize
First prize: £250
Second prize: A year's free RSM membership
Submission deadline
To be announced
Open to
Medical and other healthcare students.
Application guidelines
The Sidney Linton Prize is an opportunity for students to explore novel ways to teach cardiology through peer-produced resources. For this prize we ask participants to take a pre-determined theme and identify different ways to convey the information in the form of an e-resource for a medical student audience.
Possible submission styles include (but are not limited to): Poster (A3), A4 leaflet, video submission, podcast, audio recording. It is designed to test the understanding of participants of core material as well as their ability to convey the information they decide to include.
The title for this year's prize is: TBC
Submission closed
Students Section: TeachMe Series Research Presentation Prize
Prize
First prize: £300
Second prize: £150
Third prize: £100
Submission deadline
To be announced
Open to
Medical and other healthcare students, and those within six months of graduating.
Application guidelines
Submit a 200-word abstract on original research undertaken during your undergraduate studies. The main author must be highlighted in the paper and only one submission per author can be submitted.
Please note this prize is not intended for research undertaken as part of a PhD degree.
Submission closed
Join the RSM today
Become a member today and get discounted rates on our education programme.
For professionals with a medical, dental or veterinary qualification recognised by GMC, GDC or RCVS.
Fellow
For professionals working in the healthcare sector or with an interest in healthcare issues and do not qualify for a Fellow membership. 
Associate
For students studying medicine, dentistry or an undergraduate qualification in a healthcare-related subject, in the UK or overseas. 
Student