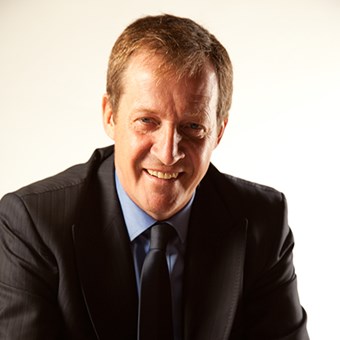 Alastair Campbell
Writer, Communicator and Strategist best known for his role as former British Prime Minister Tony Blair's spokesman, Press secretary and Director of communications and strategy. Still active in politics and campaigns in Britain and overseas, he now splits his time between writing, speaking, charities and consultancy
Speaker's biography

Alastair has written fourteen books in the past ten years, including eight volumes of diaries, four novels, a personal memoir on depression and the pursuit of happiness, and Winners and How They Succeed, a Number 1 best-selling analysis of what it takes to win in politics, business and sport.

 

He has for many years been chairman of fund-raising of Bloodwise, Britain's main blood cancer charity, but in recent years has become increasingly involved with mental health charities and causes, speaking about his own experience of depression, psychosis and addiction, and of his brother Donald's lifelong struggle with schizophrenia. A former 'Mind Champion of the Year', he is an ambassador for the Time to Change campaign to raise awareness about mental illness, ambassador for Alcohol Concern, patron of Maytree, the country's only charity for the suicidal, and of Kidstime, which supports the children of mentally ill parents. He co-founded the all-party campaign, Equality4MentalHealth, which was credited in Parliament by then Chancellor George Osborne with securing an extra £600million for mental health services. He is an active supporter of the Heads Together campaign headed be Prince William, his wife Kate, and Prince Harry. In November 2017 Alastair was awarded an honorary fellowship of the Royal College of Psychiatrists in recognition of his leadership role in breaking down the stigma surrounding mental illness, and in fighting for better services.

In July 2007, he published his first book on his time with Tony Blair, The Blair Years, extracts from his diaries from 1994 to 2003, which was an instant Sunday Times Number 1 bestseller. He has since published six volumes of the full diaries, and a special edition of the diaries focused on the Northern Ireland peace process, 'The Irish Diaries'. His first novel, All In The Mind, appeared in November 2008, to enthusiastic reviews for its frank examination of mental illness. His second novel Maya, a gripping analysis of fame and the obsession it attracts, was published in February 2010. His third novel, published in September 2013, was called My Name Is, and tells the story of a young girl's descent into alcoholism. This led to him becoming an ambassador for Alcohol Concern. His fourth novel, Saturday Bloody Saturday, co-written with former footballer Paul Fletcher, will be published in February 2018.

 

In October 2008 Alastair broadcast an award-winning one hour documentary on BBC2 about his own breakdown in 1986. Both the film, Cracking Up, and All In The Mind, won considerable praise from mental health charities and campaign groups for helping to break down the taboo surrounding mental health, leading to his election as Mind Champion of the Year award in May 2009. He has also made a BBC documentary about alcoholism, and more recently a film about wildlife. He has made a film too about his love of bagpipe music, which ended with him performing in front of 2,500 people in Glasgow's Royal Concert Hall. He is currently making another mental health documentary.

 

Though he left a full-time role with the Blair government in 2003, he returned for the subsequent three general elections to help first Blair, then Gordon Brown and Ed Miliband. He also advised the Better Together campaign against independence for Scotland, and the Remain side in the EU referendum campaign. He continues to advise left of centre parties, in particular in the Balkans, where he has for some years been a strategic director for the Albanian Socialist Party, who won a landslide victory in June 2013, making Edi Rama Prime Minister, and a second term four years later.

 

Alastair has been Humanitas Visting Professor on media at Cambridge University, and has been honoured by both University College Dublin, Trinity College Dublin and University College Cork for his contribution to the Northern Ireland Peace Process. He is on the advisory board of Portland PR, and in addition independently acts as an advisor to governments, businesses, charities, sports organisations and high profile individuals. He helped to found the world's first university in football business, UCFB, in Burnley, Lancashire, which has since extended to Wembley and Manchester City's Etihad stadium.