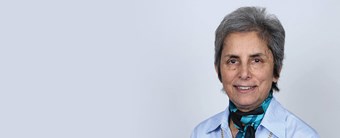 Professor Dame Parveen Kumar
Professor of Medicine and Education at Barts and The London School of Medicine and Dentistry, and Past President of the Royal Medical Benevolent Fund
Speaker's biography

Professor Dame Parveen Kumar qualified at St Bartholomews Medical College London and trained in gastroenterology under Sir Anthony Dawson and Dr Michael Clark, and her research interests are mainly in small bowel disorders (particularly coeliac disease). She was Professor of Medicine and Education at Barts and the London school of medicine, Queen Mary, University of London and has just been awarded the title of Professor Emerita , on leaving the medical school. She currently chairs the Board of Science for the BMA, is on committees for the 100,000 genome project (Genomics England), is a non-executive director for an Acute NHS Hospital Trust, and a trustee of several charities including Barts Charity and the British Youth Opera. She is ambassador for the UK Health Alliance for Climate Change and also for the new College of General Dentistry. 

Over the years she has taught and examined medical students and doctors across the world, for MBBS, MRCP and post graduate degrees. She has always been interested in medical education and  has been an undergraduate and a post-graduate Dean, and was also the Director of CPD at the Royal College of Physicians.

She is the co-founder and co-editor of the major textbook on Medicine (Kumar and Clarks Clinical Medicine 9th ed 2017) for students and doctors; this is read extensively in the UK and abroad. She has authored/edited several other medical books. She teaches and examines for undergraduate and post-graduate medical degrees in this country and abroad.

She was president of the Royal Society of Medicine, the British Medical Association, the Royal Medical Benevolent Fund, and the Medical Women's Federation. For the RSM, she co-set up the Global health programme and edited a book on the Essentials of Global health written by 127 medical students from across the world. She also set up the RSM Section of Gastroenterology and Hepatology. She held several posts at the Royal College of Physicians including being a censor, academic senior vice President ( helped set up the Education department), and International assistant director. She chaired the Medicines Commission UK and was a founding non-executive Director of NICE at its inception. She was on the Council of the British Society of Gastroenterology and later a trustee for many years. Currently her major concerns and interests are in Global health and climate change.  She has received several honorary degrees and prizes ( including the British Medical Journal Excellence award for 'Outstanding contribution to health' in 2019. and was awarded CBE for her services to medicine in 2001, and DBE in 2017.